9 or more years since vasectomy
Answer the question below to see your expected success and pregnancy rates.
---
"The 9 to 14 years group doesn't do as well as the other categories that are less than 9 years from vasectomy. Most patients will not achieve pregnancy."
"The 15 or more years group is the smallest of the time interval from vasectomy categories. Less than half of the patients will achieve pregnancy."
Request Your Free Guide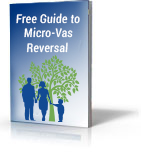 How to get a truly affordable Vasectomy Reversal and be at least 90% sure that it will work !
---
Testimonials
My husband had his reversal in January 2014 and we got pregnant after 4 cycles. Our beautiful boy was born in February 2015. We are now trying for #2. Dr. Wilson is the best reversal doctor with the most experience and I wouldn\'t have trusted anyone else with the job. We didn\'t know much about reversals at first and scheduled with a urologist that only performed 1 reversal a year. Thankfully I did my research before we let him cut into my husband! Also, the urologist cost more than Dr. Wilson\'s surgery, the plane ride, hotel and car rental put together.
Nick and Jennifer, Virginia