9 or more years since vasectomy
Answer the question below to see your expected success and pregnancy rates.
---
"The 9 to 14 years group doesn't do as well as the other categories that are less than 9 years from vasectomy. Most patients will not achieve pregnancy."
"The 15 or more years group is the smallest of the time interval from vasectomy categories. Less than half of the patients will achieve pregnancy."
Request Your Free Guide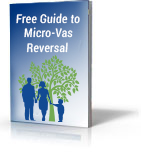 How to get a truly affordable Vasectomy Reversal and be at least 90% sure that it will work !
---
Testimonials
I had a reversal vasectomy done back in February 2013. At first I was very spectacle about setting up an appointment and putting money down with out having to speak with anyone. The web site looked more like a scam to me, but I went through with it. After meeting Dr.Wilson I mention to him about how it just didn't seem to be a legitimate office. I researched the location and his license and checked out fine. I see knew changes have been done to the website, which is good to make more people comfortable choosing this procedure, As for myself I want to thank Dr. Wilson for a great procedure and the lord for blessing me with another child. Just found a out couple of days ago (10-8-13) that were expecting a lil baby boy!!
Thank you!
Jesse Barajas
Jesse Barajas, Nevada