9 or more years since vasectomy
Answer the question below to see your expected success and pregnancy rates.
---
"The 9 to 14 years group doesn't do as well as the other categories that are less than 9 years from vasectomy. Most patients will not achieve pregnancy."
"The 15 or more years group is the smallest of the time interval from vasectomy categories. Less than half of the patients will achieve pregnancy."
Request Your Free Guide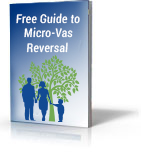 How to get a truly affordable Vasectomy Reversal and be at least 90% sure that it will work !
---
Testimonials
My husband was fixed for 5 years. On March 10, 2014- my husband had his reversal done with Dr. David Wilson. Well today on June 9, 2014 I found out I am pregnant! Thanks to the Lord Jesus and Dr. Wilson!!! Only 3 months after the surgery. I am so happy to be posting on the success stories, instead of just reading them!
Jennette & Aaron Anderson , Arkansas