9 or more years since vasectomy
Answer the question below to see your expected success and pregnancy rates.
---
"The 9 to 14 years group doesn't do as well as the other categories that are less than 9 years from vasectomy. Most patients will not achieve pregnancy."
"The 15 or more years group is the smallest of the time interval from vasectomy categories. Less than half of the patients will achieve pregnancy."
Request Your Free Guide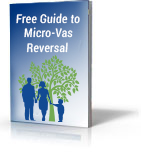 How to get a truly affordable Vasectomy Reversal and be at least 90% sure that it will work !
---
Testimonials
My husband and I both had kids from previous relationships and decided we wanted one more but unfortunately he had had a vasectomy several years back (approximately 4 years). We scheduled our appointment with Dr. Wilson for September 8th, 2014. I ended up getting off of the pill the second week in December of 2014 and I had a positive pregnancy test on January 9th, 2015!! I am now 33 weeks pregnant with our baby girl and due September 20th, 2015! This procedure works! My husband and I cannot thank Dr. Wilson enough for this miracle and blessing he has given us.
Michelle White, MO