9 or more years since vasectomy
Answer the question below to see your expected success and pregnancy rates.
---
"The 9 to 14 years group doesn't do as well as the other categories that are less than 9 years from vasectomy. Most patients will not achieve pregnancy."
"The 15 or more years group is the smallest of the time interval from vasectomy categories. Less than half of the patients will achieve pregnancy."
Request Your Free Guide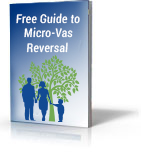 How to get a truly affordable Vasectomy Reversal and be at least 90% sure that it will work !
---
Testimonials
I had my vasectomy done after my first child in 2006 at the age of 23 after separating and ultimately divorcing my then wife. I met the love of my life a few years later and after getting married we decided to have a reversal done and try to have more children. My wife found Dr. Wilson online and we did our research and decided that this is where we wanted to get it done. On July 9th 2012 (my 30th B-day) Dr. Wilson performed the reversal and we found out last December that we were expecting. We had a 9lb 4oz baby boy on September 5th 2013. Hunter Michael.
Thank you Dr. Wilson for giving us this amazing bundle of joy.
Mike Sebestyen
Mike & Cassie Sebestyen, Virginia