9 or more years since vasectomy
Answer the question below to see your expected success and pregnancy rates.
---
"The 9 to 14 years group doesn't do as well as the other categories that are less than 9 years from vasectomy. Most patients will not achieve pregnancy."
"The 15 or more years group is the smallest of the time interval from vasectomy categories. Less than half of the patients will achieve pregnancy."
Request Your Free Guide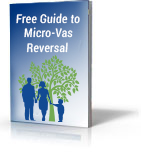 How to get a truly affordable Vasectomy Reversal and be at least 90% sure that it will work !
---
Testimonials
I had my reversal surgery with Dr Wilson in Nov 2016, after having had my vasectomy just over 8 years. We were very pleased with Dr Wilson, his services was great we always felt like we were in good hands. We came all the way from Vancouver Canada, and we are so glad that we did because we are found out that we are expecting, Due Jan 2018! We held off trying for 3 months and got pregnant after 2 months of trying. I would recommend him to anyone who is wanting to get a reversal surgery done.
Dustin, Vancouver, BC Canada