9 or more years since vasectomy
Answer the question below to see your expected success and pregnancy rates.
---
"The 9 to 14 years group doesn't do as well as the other categories that are less than 9 years from vasectomy. Most patients will not achieve pregnancy."
"The 15 or more years group is the smallest of the time interval from vasectomy categories. Less than half of the patients will achieve pregnancy."
Request Your Free Guide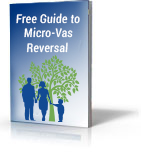 How to get a truly affordable Vasectomy Reversal and be at least 90% sure that it will work !
---
Testimonials
Dr. Wilson,
My wife just told me that she is expecting our 7th child, we have 3 boys and 3 girls already, can't wait to see which direction the pendulum swings. swings this time. Thank you so much for sharing your abilities and making them affordable, you've blessed our family. It has been 7 years since our last baby was born.
Wade Tischner, Utah