$1,990 Microscopic Vasectomy Reversal
That's right, $1,990 total charge with no hospital and no general anesthesia costs.

From the desk of Dr. Wilson
Hi, I am David Wilson, M.D. Nothing makes my day like a baby picture from a proud mom or dad who thought they would never give birth again because of a vasectomy.
Last week I heard on the phone for the umpteenth time, "This is too good to be true!". Well, it is true. You can have an excellent repair now and not have to go thousands in debt or wait months and years until the money is there for you to reverse your sterility. I am a specialist in microscopic vasectomy reversal. This is all we do at The Reversal Clinic. Over patients have had the microsurgery here under safe local anesthesia, and you can also have an excellent repair for less.
No Hidden Costs
No Hospital
No General Anesthesia
No Debt
I have written a free guide for you to learn what your individual success odds are and to explain how we achieve the cost savings while still providing you with excellent care. I encourage you to get this valuable information through the form above.
All the best,

David S. Wilson, M.D.
Request Your Free Guide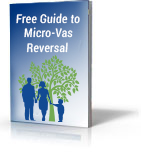 How to get a truly affordable Vasectomy Reversal and be at least 90% sure that it will work !
---
Testimonials
Jessica and I are so grateful for your clinic and the wonderful talent the Lord has blessed you with. I received my reversal the 3rd of July 2015 7 years after my vasectomy, and we have just been blessed to find out we are 6 weeks pregnant with a new chapter of our lives. Thank you again Dr. Wilson for the ease and comfort you showed my wife and I through the surgery. My odds were not the best but things worked out wonderfully and FAST. Well worth the travels from Michigan to your facility. You are very professional, polite, and making it affordable for those who wish to have a family.
Nate and Jessica Goss, MI