7-8 years since vasectomy
"The 7 to 8 years since vasectomy group has success rates intermediate between the patients less than 7 years and more than 9 years categories. Patients still do well, overall."
---
Success Rate Story
---
Dr. Wilson gives a lab order to all patients in The Reversal Clinic
526
patients have local lab results sent to The Reversal Clinic
433
patients had positive results with return of live sperm
So,
82%
of patients have return of live sperm (patency rate)
Pregnancy Rate Story
---
Pregnancy survey emails are sent to all patients two years after their reversal
658
patients returned email surveys or sent pregnancy info to The Reversal Clinic
401
patients reported pregnancies!
So,
61%
of patients report pregnancies if there are no female fertility issues
Request Your Free Guide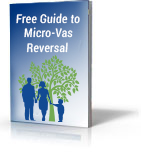 How to get a truly affordable Vasectomy Reversal and be at least 90% sure that it will work !
---
Testimonials
My reversal was a success! Vasectomy was in 4/2013. My reversal was 11/2014 and my wife was pregnant with a healthy beautiful baby boy by 1/2015. Procedure was similar to the original vasectomy. Dr. Wilson was great. Recovery was a few weeks back to normal. By day 3 I was moving around just not picking up heavy items. Well worth the trip to Oklahoma from Florida. Thanks for making our family whole dr. Wilson! !!! Highly recommended!!!
Jordan and Amanda Russel, Florida