7-8 years since vasectomy
"The 7 to 8 years since vasectomy group has success rates intermediate between the patients less than 7 years and more than 9 years categories. Patients still do well, overall."
---
Success Rate Story
---
Dr. Wilson gives a lab order to all patients in The Reversal Clinic
677
patients have local lab results sent to The Reversal Clinic
557
patients had positive results with return of live sperm
So,
82%
of patients have return of live sperm (patency rate)
Pregnancy Rate Story
---
Pregnancy survey emails are sent to all patients two years after their reversal
844
patients returned email surveys or sent pregnancy info to The Reversal Clinic
501
patients reported pregnancies!
So,
59%
of patients report pregnancies if there are no female fertility issues
Request Your Free Guide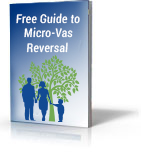 How to get a truly affordable Vasectomy Reversal and be at least 90% sure that it will work !
---
Testimonials
Hi guys! I would have had my husband write our success story, but I figured my description would be more detailed. My husband has four sons from a previous marriage (from 9+ years ago). We got married October 16, 2016 and we knew for sure we wanted to grow our family. I have had zero "biological kids". My husband had his vasectomy for NINE years. Dr Wilson was the most affordable option for us and had wonderful success rates. We decided we would go for it. At first, we thought it was a little sketchy that it was so cheap and we couldn't really get in touch with anyone on the phone except for the people that told us how to pay and book appts online (if I remember correctly). Anyway, obviously everything was legit. The day that we got the Reversal, the doctor saw sperm on both sides (can't remember rather heads, tails, or both) and gave us a 87% chance of success rate that the sperm would return in ejaculation (lack of better term). At 6 months post op we did the Sperm analysis and sure enough, his sperm count is normal!! The only thing is that he had a high liquefaction time. But, fast forward to ten cycles after the Reversal I am PREGNANT!!! 4 weeks and 6 days to be exact. My husband's Reversal was April 11th and my BFP was Feb 23, 2018. (a week before my husband's birthday!) We are so blessed and so excited, thank you dr Wilson for the affordable price that has been WELL WORTH IT so expand our family! We will be sending pictures when the baby arrives! EDD November 5th. (The day before my birthday!) Also, Dr Wilson is a very religious man and prays with his patients and their wife before surgery. Nothing could make you feel safer and in better hands. Sorry for the long post, I just wanted everyone to know what I was hoping to find while reading success stories!!!!
Jamie Deguzman, FL