7-8 years since vasectomy
"The 7 to 8 years since vasectomy group has success rates intermediate between the patients less than 7 years and more than 9 years categories. Patients still do well, overall."
---
Success Rate Story
---
Dr. Wilson gives a lab order to all patients in The Reversal Clinic
577
patients have local lab results sent to The Reversal Clinic
476
patients had positive results with return of live sperm
So,
82%
of patients have return of live sperm (patency rate)
Pregnancy Rate Story
---
Pregnancy survey emails are sent to all patients two years after their reversal
716
patients returned email surveys or sent pregnancy info to The Reversal Clinic
428
patients reported pregnancies!
So,
60%
of patients report pregnancies if there are no female fertility issues
Request Your Free Guide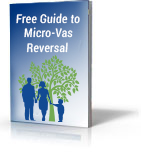 How to get a truly affordable Vasectomy Reversal and be at least 90% sure that it will work !
---
Testimonials
I had a vasectomy roughly 8 years ago when I was dating a woman that didn't want any more children. I was 50/50 on the subject, but decided to get "fixed" anyway. After several years, and meeting Valerie, who wanted kids, we decided to get my reversal done. Referred to Dr. Wilson by my girlfriends friend, we made the appt. on March 23rd, 2015. Long story short, me and Valerie welcomed or son, Andrew Allan into the world on March 26th, 2016, almost 1 year to the date of my reversal. Making the drive from Green Bay, WI to Oklahoma and Dr. Wilson's fee(Green Bay Urology wanted $10,000 up front...yikes!), it was more than worth the time and money for what Dr. Wilson has helped us create. Thank you thank you thank you!
Ritchie Hilton, Wisconsin