3-6 years since vasectomy
"The 3-6 years since vasectomy group is the largest category with return of live sperm (patency rate) over 90 %."
---
Success Rate Story
---
Dr. Wilson gives a lab order to all patients in The Reversal Clinic
1145
patients have local lab results sent to The Reversal Clinic
1041
patients had positive results with return of live sperm
So,
91%
of patients have return of live sperm (patency rate)
Pregnancy Rate Story
---
Pregnancy survey emails are sent to all patients two years after their reversal
1542
patients returned email surveys or sent pregnancy info to The Reversal Clinic
1134
patients reported pregnancies!
So,
74%
of patients report pregnancies if there are no female fertility issues
Request Your Free Guide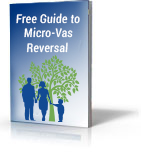 How to get a truly affordable Vasectomy Reversal and be at least 90% sure that it will work !
---
Testimonials
I was listening to EWTN a lot at work and at one point they were talking about vasectomy and tubal ligation reversals. I felt like God was talking to me, but didn't think Dave would go for it. After much prayer Dave agreed! I looked up vasectomy reversals and a friend suggested looking at One More Soul. Dr. Wilson was listed so we contacted him. In June 2006, we traveled nervously from Upstate NY to Muskogee, OK for the reversal. Afterwards, I learned as much as I could about Natural Family Planning. Dave and I tried for a baby for 4 years after the reversal. As we grew older and about to give up, in God's perfect timing our daughter arrived in April 2011!!! We named her Zoe which means life! She has brought new life to our family for sure! Thank you so much Dr. Wilson!
Dave and Wendy, Colorado