3-6 years since vasectomy
"The 3-6 years since vasectomy group is the largest category with return of live sperm (patency rate) over 90 %."
---
Success Rate Story
---
Dr. Wilson gives a lab order to all patients in The Reversal Clinic
1258
patients have local lab results sent to The Reversal Clinic
1142
patients had positive results with return of live sperm
So,
91%
of patients have return of live sperm (patency rate)
Pregnancy Rate Story
---
Pregnancy survey emails are sent to all patients two years after their reversal
1695
patients returned email surveys or sent pregnancy info to The Reversal Clinic
1234
patients reported pregnancies!
So,
73%
of patients report pregnancies if there are no female fertility issues
Request Your Free Guide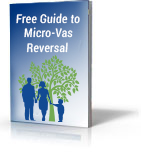 How to get a truly affordable Vasectomy Reversal and be at least 90% sure that it will work !
---
Testimonials
I had my reversal done by Dr. Wood in 2017 and I am very happy to say that as of 02/08/19 we have a little boy now with us. Dr. Wood was extremely pleasant and I appreciated just how thorough he was with explaining what was happening and also how funny and insightful he was. I am not usually a talker but I felt comfortable talking with him throughout the entire procedure. I know he is no longer in this office but I wanted to make sure it was known that his reversal worked and that because of it we have a beautiful little boy.
Daniel Tong, WA