3-6 years since vasectomy
"The 3-6 years since vasectomy group is the largest category with return of live sperm (patency rate) over 90 %."
---
Success Rate Story
---
Dr. Wilson gives a lab order to all patients in The Reversal Clinic
1366
patients have local lab results sent to The Reversal Clinic
1245
patients had positive results with return of live sperm
So,
91%
of patients have return of live sperm (patency rate)
Pregnancy Rate Story
---
Pregnancy survey emails are sent to all patients two years after their reversal
1871
patients returned email surveys or sent pregnancy info to The Reversal Clinic
1357
patients reported pregnancies!
So,
73%
of patients report pregnancies if there are no female fertility issues
Request Your Free Guide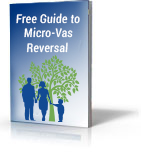 How to get a truly affordable Vasectomy Reversal and be at least 90% sure that it will work !
---
Testimonials
My husband had his vasectomy done for nine years when we went to Oklahoma on February 4, 2011. We drove from Iowa during one of the worst snow storms Oklahoma has ever seen. It was a terribe drive, but we made it safely. My husband had the reversal done and three months later his count came back low, but it was there! We got pregnant, Due February 4, 2013 (2 years to the day of his reversal). What a true miracle. Ava Marie was born 7 lbs 11 oz on January 26, 2013. She is beautiful and perfect. Thanks you so much, Dr. Wilson for helping us. The rest was up to God. He is a good God!
Jason, Iowa