3-6 years since vasectomy
"The 3-6 years since vasectomy group is the largest category with return of live sperm (patency rate) over 90 %."
---
Success Rate Story
---
Dr. Wilson gives a lab order to all patients in The Reversal Clinic
1179
patients have local lab results sent to The Reversal Clinic
1070
patients had positive results with return of live sperm
So,
91%
of patients have return of live sperm (patency rate)
Pregnancy Rate Story
---
Pregnancy survey emails are sent to all patients two years after their reversal
1591
patients returned email surveys or sent pregnancy info to The Reversal Clinic
1170
patients reported pregnancies!
So,
74%
of patients report pregnancies if there are no female fertility issues
Request Your Free Guide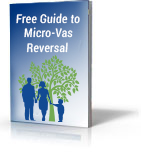 How to get a truly affordable Vasectomy Reversal and be at least 90% sure that it will work !
---
Testimonials
My husband had decided to get a Vasectomy many years before we had met. When we decided that we were going to get married, we discussed our options for having a child together. My husband had found Dr. Wilson through an internet search. Dr. Wilson is amazing and very faith based, which we just loved. Dr. Wilson performed the reversal September 2012 and we have just given birth to our beautiful baby boy August 2013. Thank you for giving us the precious gift of a child.
Robert and Joanne, Illinois