3-6 years since vasectomy
"The 3-6 years since vasectomy group is the largest category with return of live sperm (patency rate) over 90 %."
---
Success Rate Story
---
Dr. Wilson gives a lab order to all patients in The Reversal Clinic
1013
patients have local lab results sent to The Reversal Clinic
922
patients had positive results with return of live sperm
So,
91%
of patients have return of live sperm (patency rate)
Pregnancy Rate Story
---
Pregnancy survey emails are sent to all patients two years after their reversal
1383
patients returned email surveys or sent pregnancy info to The Reversal Clinic
1033
patients reported pregnancies!
So,
75%
of patients report pregnancies if there are no female fertility issues
Request Your Free Guide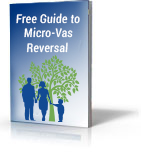 How to get a truly affordable Vasectomy Reversal and be at least 90% sure that it will work !
---
Testimonials
Vasectomy was in June 2009, reversal was in Jan-2013.
When I had the vasectomy we were sure we were "done". We had talked about the vasectomy for years and we felt it was right. After a few years and many prayers, we realized we made a mistake. And thinking that we could not be able to correct the vasectomy was a sad realization.
Having Dr. Wilson do the reversal has been a wonderful blessing. (It was much easier than the vasectomy- it was uncomfortable but not painful). His dedication, experience, compassion, and strong belief in God, are all reasons we choose him instead of choosing a closer doctor. It was when he prayed for our future children on the day of the procedure, that we realized we picked the right man to do this.
We are happy to report a healthy baby boy born on April-2014.
Thank you Again!
Thank you again for what you do Dr. Wilson.
Kevin, North Carolina