1-2 years since vasectomy
"Success rates are highest for patients less than 3 years since the vasectomy."
---
Success Rate Story
---
Dr. Wilson gives a lab order to all patients in The Reversal Clinic
281
patients have local lab results sent to The Reversal Clinic
268
patients had positive results with return of live sperm
So,
95%
of patients have return of live sperm (patency rate)
Pregnancy Rate Story
---
Pregnancy survey emails are sent to all patients two years after their reversal
458
patients returned email surveys or sent pregnancy info to The Reversal Clinic
377
patients reported pregnancies!
So,
82%
of patients report pregnancies if there are no female fertility issues
Request Your Free Guide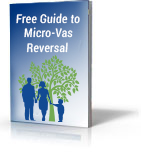 How to get a truly affordable Vasectomy Reversal and be at least 90% sure that it will work !
---
Testimonials
Today we found out that the Lord answered our prayers! I got a positive pregnancy test and I am so grateful and humbled that He heard my cry! My husband had his vasectomy in Sept 2012 right before my 3rd was born. After a couple years I knew I wanted more. So did my husband. God had completely changed our hearts regarding children. We found out of Dr. Wilson through a friend on social media. God opened ALL the doors and my husband had the reversal Nov 2016. It is now Jan 24, 2017 (only 2 months later!) and I tested positive! Glory to God. And thank the Lord for Dr.Wilson and his ministry at The Clinic! He was patient, calm and spent time in prayer with us before the surgery.....God's presence was felt indeed. Thank you Dr.Wilson for submitting to the Lord in this calling! We are forever grateful.
Cristina Ghinga , MO