1-2 years since vasectomy
"Success rates are highest for patients less than 3 years since the vasectomy."
---
Success Rate Story
---
Dr. Wilson gives a lab order to all patients in The Reversal Clinic
336
patients have local lab results sent to The Reversal Clinic
323
patients had positive results with return of live sperm
So,
96%
of patients have return of live sperm (patency rate)
Pregnancy Rate Story
---
Pregnancy survey emails are sent to all patients two years after their reversal
554
patients returned email surveys or sent pregnancy info to The Reversal Clinic
443
patients reported pregnancies!
So,
80%
of patients report pregnancies if there are no female fertility issues
Request Your Free Guide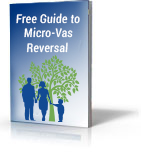 How to get a truly affordable Vasectomy Reversal and be at least 90% sure that it will work !
---
Testimonials
My wife and I started this journey almost a year and a half ago. I was 4 years post vasectomy. We had to wait almost 6 months for the procedure. My wife was pregnant 2 months later and today she just delivered our beautiful son. Dr. Wilson was wonderful. Extremely professional and clearly experienced. Procedure was as described. We are so grateful for our little miracle.
Nathan Bower, OH