1-2 years since vasectomy
"Success rates are highest for patients less than 3 years since the vasectomy."
---
Success Rate Story
---
Dr. Wilson gives a lab order to all patients in The Reversal Clinic
250
patients have local lab results sent to The Reversal Clinic
237
patients had positive results with return of live sperm
So,
95%
of patients have return of live sperm (patency rate)
Pregnancy Rate Story
---
Pregnancy survey emails are sent to all patients two years after their reversal
410
patients returned email surveys or sent pregnancy info to The Reversal Clinic
338
patients reported pregnancies!
So,
82%
of patients report pregnancies if there are no female fertility issues
Request Your Free Guide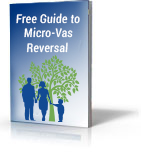 How to get a truly affordable Vasectomy Reversal and be at least 90% sure that it will work !
---
Testimonials
We had four boys and thought we were done having children. My husband had a vasectomy in 2013 and 2 years later as I was on my way to Washington D.C. for the March for Life the Lord questioned me.. if you are truly pro-life, than why are you not open to life in your own marriage? That was January 22,2016. The Lord led me to Dr. David Wilson's clinic and my husband had his reversal on 4/1/16. We found out we were pregnant on 10/30/16 and were completely shocked and overwhelmed. We found out today that our 4 boys will be welcoming a little sister in June 2017. Thanks be to God and thank you to Dr. Wilson for listening to the Lord and following your calling. This journey has not only strengthened our marriage, but also our faith!
Natalie Simons, Ohio