1-2 years since vasectomy
"Success rates are highest for patients less than 3 years since the vasectomy."
---
Success Rate Story
---
Dr. Wilson gives a lab order to all patients in The Reversal Clinic
320
patients have local lab results sent to The Reversal Clinic
307
patients had positive results with return of live sperm
So,
96%
of patients have return of live sperm (patency rate)
Pregnancy Rate Story
---
Pregnancy survey emails are sent to all patients two years after their reversal
520
patients returned email surveys or sent pregnancy info to The Reversal Clinic
420
patients reported pregnancies!
So,
81%
of patients report pregnancies if there are no female fertility issues
Request Your Free Guide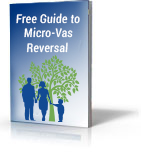 How to get a truly affordable Vasectomy Reversal and be at least 90% sure that it will work !
---
Testimonials
My husband and I were married for 3 years with a blended family of three teenage boys when we made the decision to reverse his vasectomy. My husband underwent his vasectomy with his first wife in 2006. So after 11 years of being "fixed," he agreed to have a baby! In 2017, we flew to the Rhode Island office and Dr. Keith Baldwin performed the surgery! HE WAS ABSOLUTELY AMAZING AND WAS A TRUE BLESSING FROM GOD! He performed the surgery on April 26th and my husband had sperm present by the end of August 2017. It took us a year to get pregnant (Sept 2018), but unfortunately we suffered a miscarriage at 7 weeks. We tried again as soon as possible and were pregnant by Jan. 2019. We are happy to announce that we had a perfectly beautiful baby girl on October 9th 2019! BEST DECISION WE EVER MADE!
Willie and Latashia Posey, Tennessee