1-2 years since vasectomy
"Success rates are highest for patients less than 3 years since the vasectomy."
---
Success Rate Story
---
Dr. Wilson gives a lab order to all patients in The Reversal Clinic
340
patients have local lab results sent to The Reversal Clinic
327
patients had positive results with return of live sperm
So,
96%
of patients have return of live sperm (patency rate)
Pregnancy Rate Story
---
Pregnancy survey emails are sent to all patients two years after their reversal
560
patients returned email surveys or sent pregnancy info to The Reversal Clinic
449
patients reported pregnancies!
So,
80%
of patients report pregnancies if there are no female fertility issues
Request Your Free Guide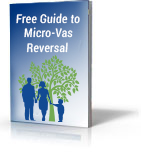 How to get a truly affordable Vasectomy Reversal and be at least 90% sure that it will work !
---
Testimonials
Hello everyone,
I really have to share some awesome news. I had a reversal done on May 3, 2013 and my wife and I are pregnant as of July 27, 2013. The entire process with Dr. Wilson was smooth and I am highly recommending him to anyone that is thinking having a reversal. I know some of you may be thinking that these stories are made up or something butI am pproofthat they aren't. If you would like to know more about my reversal or have questions I am more than willing to talk to you, just shoot me an email at scubafreak3@gmail.com.
Thank you Dr. Wilson for doing what God has called you to do, it is truly a miracle.
God bless,
David F.
David Franklin, Alabama