Microsurgical Vasectomy Reversal – An Olympic Event?
March 01, 2010
|
Dr. David Wilson
You know the old saying "truth is stranger than fiction"? Well that came to mind a few days ago as I watched the Winter Olympic Games.

The same day the games began in Vancouver, I was doing the last operation of the week for a very pleasant couple from Delaware. I was listening to a symphony play "Ave Maria" in the background, and was really enjoying the surgery. At that moment I was performing the anastomosis, the hook up between the upper and lower portions of the vas tube to repair the vas deferens. I was peering through the microscope that makes the vas look as big as a barn. I held in my right hand the titanium micro-surgical needle holder that grasped the 4/1,000ths of an inch needle and my left hand fingers cradled the titanium forceps with a 0.2 millimeter tip. After running the needle precisely through the wall of the two vas ends, I was tying the micro-suture (less than one third the diameter of a hair).

I rhythmically intertwined the tips of the two instruments in order to tie the surgical knots. The image of a couple on the ice at the Winter Olympics came to mind as I methodically but gracefully performed the maneuvers to complete the exact reconnect. Surgery has often been likened to an athletic event, and I was certainly enjoying the movement and execution of the vasectomy reversal maneuvers to help this couple with their dream.

Fast forward a week and a half – I walked into the living room where my wife was watching the live TV broadcast of the Winter Games. Belbin and Agosto, the veteran U.S pair were taking to the ice. They beautifully skated to the same song I had heard in the surgery room: "Ave Maria." After the competition they spoke of their long-term commitment to excellence and the satisfaction of having done the best they could do.

So the truth really does beat fiction.  I'll never be on the ice center stage, but after years of sacrifice and preparation I know the joy of a job well done.
Back
Request Your Free Guide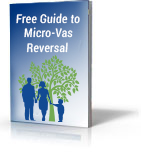 How to get a truly affordable Vasectomy Reversal and be at least 90% sure that it will work !
---
Testimonials
My husband had his reversal in January 2014 and we got pregnant after 4 cycles. Our beautiful boy was born in February 2015. We are now trying for #2. Dr. Wilson is the best reversal doctor with the most experience and I wouldn\'t have trusted anyone else with the job. We didn\'t know much about reversals at first and scheduled with a urologist that only performed 1 reversal a year. Thankfully I did my research before we let him cut into my husband! Also, the urologist cost more than Dr. Wilson\'s surgery, the plane ride, hotel and car rental put together.
Nick and Jennifer, Virginia