What Are The Different Procedures And Cost Options For Vasectomy Reversal?
June 21, 2010
|
Dr. David Wilson
The question I often get from a new patient is, 'Why is surgery in your office so much cheaper than the hospital?' I get where they are coming from. The last thing that anyone would want to bargain hunt for is surgery. They are putting their health, and the ability to have children, in my hands. With modern advances in vasectomy reversal surgery, having the procedure doesn't mean a long complicated surgery with a huge hospital bill to match.

Microscopic vasectomy reversal surgery is an affordable, but very safe procedure for men who want to restore fertility. When performing microscopic vasectomy reversal, I am able to use in-office local anesthesia to reconnect the cut ends of the vas deferens to restore fertility. Many patients find this appealing because local anesthesia enables them to have a two-hour outpatient procedure rather than being put under general anesthesia or having to stay overnight in the hospital. Because the procedure is minimally invasive, the recovery is much shorter and easier. Compared to traditional vasectomy reversal surgery, in-office microscopic procedures are dramatically less expensive, but offer the same end result--the potential for the ability to have children. The cost for microscopic vasectomy reversal in my offices is $1,700. In stark contrast, a traditional reversal surgical procedure includes a surgeon's fee ranging from $2,500 to $10,000, anesthesia fees in the $2,000 to $5,000 range and hospital or outpatient surgery center costs ranging from $2,000 to $5,000. This less invasive option also means less upfront preparation. Because I can answer many questions through email and the phone, in addition to the preoperative phone meeting, there's no need for pre-op visits.

Before going in for surgery in a hospital, patients are put through extensive lab tests to make sure they are healthy enough to go under general anesthesia. But since I use local anesthetic, the pre-operative time spent in the office the day of surgery is minimal. Over time, and more frequently after nine years, obstruction can form in epididymis from the increased back pressure that results from the vasectomy.   Even in this group simple vas reconnect can bring return of live sperm to most patients and give them an opportunity to grow their family.The added complexity of this operation is reflected in higher surgical fees. Robotic Systems For Vasectomy Reversal Surgery Mean Higher Costs There are other procedures that are available for vasectomy reversal, including laser and fibrin glue. Another procedure uses robotic systems integrated with endoscopy tools for surgical visualization and robotic technology to perform surgical movements. With the assistance of high technology guidance robotics, the cost for procedures of this type is obviously much higher than in-office microscopic surgery. Considering the scope of the procedure, robotic surgery is going a bit overboard for a relatively simple vas to vas reconnection procedure.

For the great majority of patients, office based microscopic surgery is the best method for reversing a vasectomy affordably,safely, and effectively.
Back
Request Your Free Guide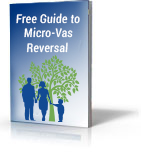 How to get a truly affordable Vasectomy Reversal and be at least 90% sure that it will work !
---
Testimonials
I had my reversal after 7 years. Dr. Wilson is an excellent surgeon! He had a moving sincere prayer together with us before the surgery and we really felt that his hand is led by Our Lord. We conceived in 18 months after the reversal and had our wonderful baby boy on Mother's Day May 12, 2019. We were very blessed with Dr. Wilson who gave us a chance to become parents again! Thank you Dr. Wilson and God bless you!
Terence, AZ