Myths About Vasectomy Reversal Surgery
June 09, 2010
|
Dr. David Wilson
My goal is to provide patients and prospective patients with all of the information they seek – the full story and the truthful story. Unfortunately, there are many myths when it comes to vasectomy and vasectomy reversal surgery; here are some of the more prevalent ones along with the real truth behind the myth. Myth: Once a man has a vasectomy, he stops producing sperm. Truth: Men make sperm following a vasectomy regardless of how long it's been since the surgery (unless other factors, such as injury to the testicles or other medical problems, present themselves). Fact: The body continues to make sperm even following a vasectomy. Myth: Don't even consider a vasectomy reversal surgery if your female partner is over 35. Truth: Female fertility does decline with age, that is a fact. But many women can and do still conceive well into their 30s and 40s. I wouldn't ever tell a patient to not consider the vasectomy reversal procedure solely on the basis of the age of his female partner. Myth: Always go with the vasectomy reversal doctor whose office is most conveniently located for you. Truth: Location, like price, is just one factor to consider when looking at all of your vasectomy reversal surgery options. In fact, your health, your peace of mind and, ultimately, the effectiveness of the surgery are far more important than your drive time or your convenience level. The potential results of your vasectomy reversal surgery should outweigh anything else in your decision-making process. My commitment is to give you all of the facts and information so that you can make the most informed choice that makes the most sense for you.
Back
Request Your Free Guide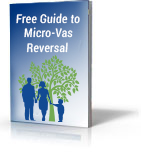 How to get a truly affordable Vasectomy Reversal and be at least 90% sure that it will work !
---
Testimonials
My boyfriend had a vasectomy 11 years prior to my meeting him. We wanted a child together and due to his lack of insurance, he didn\'t think a reversal was possible. I researched and found Dr. Wilson. In Oct 2011 we drove from NY to OK for the surgery. The entire experience was pleasant and Dr. Wilson was both efficient and personable. Three months later we began trying and in March of 2012 I became pregnant! We now have a beautiful little 2yo girl and are going to try for baby #2. I am eternally grateful to Dr. Wilson and, of course, God for bringing it all together. I absolutely recommend Dr. Wilson!
Rene, NY