What Is Vasectomy Reversal?
April 26, 2010
|
Dr. David Wilson
Vasectomy reversal is an increasingly popular procedure that allows men to undo a previously performed vasectomy surgery. Vasectomy reversal surgery is sought by 5-10% of men who have had a vasectomy and now are desiring more children with a first spouse for various reasons, including loss of a child or financial changes, or who are remarrying/ beginning a new relationship. Much less common reasons for the reversal are pain after vasectomy or other supposed health benefits.

In the common vasectomy reversal procedure that I perform, the vasectomy reversal doctor re-connects the tubes that carry sperm from the testicles to a man's semen. Those tubes, known the vas deferens, are sewn back together. In the much less common procedure, the tubes are attached to the epididymis, the tube on the back of each testicle where the sperm matures. Vasectomy reversal is considered the best option for pregnancy following a vasectomy. Vasectomy reversal can be performed anytime after a vasectomy, from just a few months to decades following the vasectomy, as men rarely discontinue sperm production following a vasectomy (although results do decrease over time from vasectomy). Vasectomy reversals have a high success rate for patients a few years after vasectomy, well over 90%.
Back
Request Your Free Guide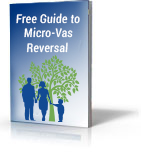 How to get a truly affordable Vasectomy Reversal and be at least 90% sure that it will work !
---
Testimonials
First of all thank you Dr. Wilson.
To anyone with second thoughts….I had my first attempted reversal in July of 2010, a little over 7 years since my vasectomy, through another doctor at a cost of over twice as much with zero success. Not having the confidence that returning to the same doctor would result in success I searched for another option. Dr. Wilson performed my second reversal on 11/15/11. We knew that the amount of time and an unsuccessful first reversal attempt drastically reduced our chance of success. Well, we welcomed a beautiful baby girl on 11/30/12. The day after my procedure I told Kim that there was no comparing the two procedures. The surgery skill of Dr. Wilson is many many times what he charges. Take it from someone who had the same procedure twice by different doctors.
Larry & Kim, Texas