What Is Vasectomy Reversal?
April 26, 2010
|
Dr. David Wilson
Vasectomy reversal is an increasingly popular procedure that allows men to undo a previously performed vasectomy surgery. Vasectomy reversal surgery is sought by 5-10% of men who have had a vasectomy and now are desiring more children with a first spouse for various reasons, including loss of a child or financial changes, or who are remarrying/ beginning a new relationship. Much less common reasons for the reversal are pain after vasectomy or other supposed health benefits. In the common vasectomy reversal procedure that I perform, the vasectomy reversal doctor re-connects the tubes that carry sperm from the testicles to a man's semen. Those tubes, known the vas deferens, are sewn back together. In the much less common procedure, the tubes are attached to the epididymis, the tube on the back of each testicle where the sperm matures. Vasectomy reversal is considered the best option for pregnancy following a vasectomy. Vasectomy reversal can be performed anytime after a vasectomy, from just a few months to decades following the vasectomy, as men rarely discontinue sperm production following a vasectomy (although results do decrease over time from vasectomy). Vasectomy reversals have a high success rate for patients a few years after vasectomy, well over 90%.
Back
Request Your Free Guide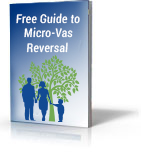 How to get a truly affordable Vasectomy Reversal and be at least 90% sure that it will work !
---
Testimonials
My husband had a reversal just under three years since his vasectomy. At the time of the procedure he was not given a good prognosis due to the condition of the sperm. However, a year later (at 40 years old) I was surprised with a positive pregnancy test which unfortunately ended in a miscarriage. A few months later I became pregnant again and today we are happy to announce that I am 24 weeks pregnant with our baby girl. We couldn't be happier!
Lori, PA