Reasons You Should Look Elsewhere for Your Vasectomy Reversal
April 12, 2010
|
Dr. David Wilson
This blog will let you know who is NOT right for my practice or procedure. I've been doing vasectomy reversals for a number of years now. I've seen or talked with thousands of patients. And I've come to realize there are some patients who are just not right for my practice or procedure.

1. I will not perform the procedure for "health reasons". I've talked to a number of men who believe that having their vasectomy reversed would be good for their health. None of these benefits have been proven. I will not perform my procedure for any reason other than the desire to have children.

2. I will not perform the surgery for patients who are only seeking relief from post vasectomy syndrome (PVS). They should seek an expert in PVS to provide them with the specialized care they need.

If you meet one of the criteria above, I urge you to seek advice elsewhere. But if you and your wife sincerely desire to be open once again to the possibility of children, then you are likely a good fit for this practice.
Back
Request Your Free Guide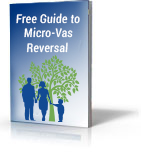 How to get a truly affordable Vasectomy Reversal and be at least 90% sure that it will work !
---
Testimonials
My husband Alex had his reversal done in July 2016 after 7 years and we became pregnant in November 2016 and i am due July 25, 2017. We just wanted to say thank you to Dr. Baldwin for his great work! When the baby comes we will send pictures to follow. Thank you. Sincerely, Tricia
Alex Cifelli, New Jersey