Patency and Pregnancy after Vasectomy Reversal
April 08, 2020
|
Dr. David Wilson
The most common question folks have as they look into getting a reversal is "What are the chances we will become the parents of a beautiful baby and be able to hold that child in our arms?"  That's why we do the reversals here at The Reversal Clinic. Fertility is the only reason we will do the reversals for patients.  

In this blog I will give you the scientific literature for expected outcomes and also patient outcomes here at The Reversal Clinic over the past fourteen years – the US's largest experience. I'll also give answers to some of the more frequent questions people raise about increasing their chances for pregnancy after reversal. 

The landmark study in the vasectomy reversal field is the Vasovasostomy Study Group Trial, the VVSG.  Dr Arnold Belker and others published this in the Journal of Urology in 1991. It was a five-center trial with five different expert micro surgeons performing the reversals over about a 10-year period. The study has been cited in the scientific literature almost 600 times, far more than any other study in the surgical or urological literature on vasectomy reversal. They looked at vasovasostomy outcomes in about 1,500 patients and looked at many, many different aspects and criteria and measurements around those reversals. They just put together a wonderful study.

The results of that study are still used by physicians today to give expected outcomes for vasectomy reversal, as stated in the recent 2014 article published in The Journal of Urology entitled "Outcomes after Vasovasostomy for Vasectomy Reversal: A Meta-Analysis and Review of the Literature." This meta-analysis done by groups at Emory and Cornell stated very succinctly that the VVSG is still the landmark study. It is the benchmark for the field of vasectomy reversal, and it's still being used all over the country and internet today by physicians describing patient expectations prior to reversal. 

The definitions of the outcomes of reversal are very important, and the VVSG defined patency as the percentage of positive tests for sperm of the total number of tests obtained. It is a very important description of success after vasectomy that is based simply on test results as defined by the Vasovasostomy Study Group trial. It's the percentage of positive tests out of the total tests received – the return of sperm for patients.
The other measurement or outcome in the trial was pregnancy. This was determined at a two-year follow-up period. It's a two-year pregnancy rate in the VVSG that excluded patients of couples who had been divorced, used contraception, or in which there was a female fertility issue. 

It's important to note that 'success rates' are being changed in recent years in reporting of statistics after reversal. Specifically, a newly defined 'success rate' is being used in some studies and practices by using combination of patency (test results only) and pregnancy. But in order for patients to be well-informed, the actual patency rate based solely on sperm test results should be the mark for the actual success of the procedure. Of course, the pregnancy rate is the desired outcome that we all hope for our patients.
If pregnancy data is inserted into some kind of a combined hybrid success rate, then the actual return of sperm rates for a practice or a study are inflated. So, there is much more integrity in using a true strict patency rate. That's the rate the VVSG used, and that's the rate that The Reversal Clinic has used over the past fourteen years to measure success of the surgery. 

The statisticians that reported the VVSG findings were able to clump or group patients in terms of outcome according to years from vasectomy. It has been shown by the VVSG and the recent meta-analysis of the world's scientific literature that increasing years from vasectomy decreases outcomes for both patency and pregnancy.  So, the shorter the time since vasectomy, the better the outcomes.
The VVSG used four subgroups to report their results:  less than three years, three to eight years, nine to fourteen, and greater than fifteen years from vasectomy. 

Here I will describe the outcomes for both the VVSG and The Reversal Clinic (see table below.) 
The less than three-year category in the VVSG found that 97% of patients had a return to sperm with a 76% pregnancy rate. The Reversal Clinic's experience is 96% for patency, or return of sperm, and 82% for pregnancy.  Again, that's for couples who have no female fertility issues. 
The next group for the VVSG was the 3-8-year category, and in that category 88% had return of sperm and 53% achieved pregnancy. We saw in The Reversal Clinic's experience early on that the patients in this 3-8-year category were not homogeneous. In other words, the patients toward the end of this time period had different outcomes. So, we divided this group.  The Reversal Clinic reorganized this group into the 3-6 year and the 7-8-year categories. In the 3-6-year category, 91% had return of sperm in The Reversal Clinic's experience and 74% have achieved pregnancy, again with no female fertility issues. In the 7 to 8-year category, 83% have had a return of sperm and 61% had pregnancies. So, you can see that that the outcomes taper off towards the end of this VVSG group, and we think it's very useful to patients to break these subgroups down so we have five subgroups where the VVSG has four in their outcome data. 

For the next category, the 9 to 14-year category, 79% in the VVSG had return of sperm, and they had a 44% pregnancy rate, again with no female fertility issues.  The Reversal Clinic had 75% with patency and 47% with pregnancy. 

In the greater than 15-year category, there were 71% with patency or return to sperm in the VVSG trial and 30% achieved pregnancy. 70% of patients had return of sperm in The Reversal Clinic's experience and 45% in this category have a pregnancy. The 30% figure for the VVSG pregnancy rate I believe is not really reflective of the actual odds that these patients had in the VVSG. This group was very small in the VVSG, about 40 patients. We in The Reversal Clinic experience have a much larger group, well over a hundred patients, that gives us a better picture of what these patients can expect for outcomes.


OUTCOMES OF THE VVSG AND THE REVERSAL CLINIC       (Patency with Pregnancy in parentheses)

YEARS FROM VASECTOMY                                   VVSG                                       THE REVERSAL CLINIC

LESS THAN 3                                                     97 (76)                                                  96 (82)

3 – 8                                                                88 (53)
                      
     3-6                                                                                                                         91 (74)

     7-8                                                                                                                         83 (61)

9 – 14                                                               79 (44)                                                 75 (47)   
           
15 OR GREATER                                                 71 (30)                                                 70 (45) 
 
It is important to note that the total number of patients (not shown in table) is greater in The Reversal Clinic's experience. The VVSG's patency data was obtained from the 1,000 patients that had semen analysis test results. There were about 2,500 patients' test results received for The Reversal Clinic 14-year experience reflected in the above table. The pregnancy data in the VVSG was a result of about 800 patients they were able to follow for the two-year follow-up period in that landmark study versus about 3,300 patients for whom The Reversal Clinic had two-year pregnancy data.  

So, patency follow-up in The Reversal Clinic is about 2.5 times greater than the VVSG, and The Reversal Clinic has about four times the follow-up for pregnancy.  The discrepancy between the number of test results and pregnancy follow-up for The Reversal Clinic is likely due in large part to the fact that our patients often will not do the semen tests and just wait for pregnancy. Couples who conceive in the first few months after reversal will often never have a semen test performed because they feel they have the answer to the question of success of the procedure.

A few things to note about outcomes after reversal are, first of all, the literature experience in measuring time of conception for those couples who do conceive has been 11-12 months.  Only about 5% will conceive after two years, but we occasionally have couples report first time pregnancy a few years after surgery.  We also occasionally see patients conceive at first relations at two weeks after surgery.

Also, of note, in all studies and practices there is an observed low rate of 'closing down' of the repair.  This is seen when an initial positive test result is followed by zero counts on sperm testing.  This is known as 'late failure' and occurs in three to five percent of patients per year.  So, after five years, up to a quarter of patients with initial success may no longer have positive test results.

A common question concerns things to do to improve chances after reversal.  One of these areas of intervention is preoperative testing. A question comes up about anti-sperm antibody testing. The VVSG actually didn't look at this, but several other studies have and there's no information that would indicate that anti-sperm antibody testing before surgery would help at all with outcomes for patients. We believe strongly that anti-sperm antibodies have a very minimal role in fertility after reversal.

Also, we don't recommend routine testing for women less than 40 with previous children.  But women over age 40 or those with no history of child bearing should contact their OB practice to ask about potential testing.

Vitamins and supplements often come up in terms of what can we do to improve  odds, and the fact is there are no scientific studies in reversal populations proving increase in fertility for supplements or vitamins. Now there is some information in the general population that may show benefit, but there's no science showing a particular regimen or collection, or vitamin or supplement will, in fact, improve chances of patency and pregnancy after vasectomy reversal.  However, if taken in the recommended amounts, it's very unlikely that these supplements will actually decrease outcomes.

There are some other treatments that are proposed to help odds.  You may have seen them on websites or discussed on forums. Namely, NSAIDs and also steroids. Unfortunately, there are no scientific studies showing benefit in reversal patients to improve outcomes. However, there are known deleterious side effects of both steroids and NSAIDS. So, we at The Reversal Clinic do not recommend these treatments, because, again, they haven't been proven. We take very seriously the admonition to first do no harm. So, we can't tell you that these regimens would be of help at all and they might be of harm if you suffer bad side effects from the medications.

The last topic I want to briefly touch on is things to avoid. Again, there's no scientific trials in the reversal population, but just from a commonsense point of view there are some different activities and habits that are known to decrease sperm counts.  These would include tobacco, daily alcohol consumption, and illicit drugs. These can all decrease sperm counts. These should be avoided if you want to be a daddy.  Hot tubs and saunas can also decrease counts and should be avoided.

Some prescription meds can also decrease sperm count. The main actor here is testosterone which will decrease sperm count.  If hormone replacement is needed for some purpose, then other agents can be used. You can talk to your primary care doctor or your reproductive endocrinologist if that's necessary. You need to get off testosterone to improve your odds of conception.

Also, other possible causes of decreased sperm production with medications would include steroids, some heart medications, some high blood pressure medications, and some antibiotics. So again, you need to check with your primary care doctor to see if there are potential downsides to the medications you're on so you improve odds of pregnancy.

So, I think you can see from our data that's corroborated by the VVSG that you can expect a really good opportunity to grow your family after a simple vasovasostomy. The approach the VVSG took, a simple vas to vas reconnect or vasovasostomy, is the approach that The Reversal Clinic has taken. We believe this is the standard of care as discussed in another blog (Standard Care for Vasectomy Reversal.) You may want to take a look at that for more information, but we feel good that we're doing the best for patients and giving them really prime opportunities for childbearing.

You can actually confirm our outcome statistics by yourself.  I believe this is unique with The Reversal Clinic.  We have a referral list of hundreds and hundreds of patients who have agreed to speak with folks. If you go to the TheReversalClinic.com contact form and request a referral list, we will send your category of patients to call and visit about how they did after the reversal. 




Back
Request Your Free Guide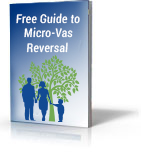 How to get a truly affordable Vasectomy Reversal and be at least 90% sure that it will work !
---
Testimonials
Today we found out that the Lord answered our prayers! I got a positive pregnancy test and I am so grateful and humbled that He heard my cry! My husband had his vasectomy in Sept 2012 right before my 3rd was born. After a couple years I knew I wanted more. So did my husband. God had completely changed our hearts regarding children. We found out of Dr. Wilson through a friend on social media. God opened ALL the doors and my husband had the reversal Nov 2016. It is now Jan 24, 2017 (only 2 months later!) and I tested positive! Glory to God. And thank the Lord for Dr.Wilson and his ministry at The Clinic! He was patient, calm and spent time in prayer with us before the surgery.....God's presence was felt indeed. Thank you Dr.Wilson for submitting to the Lord in this calling! We are forever grateful.
Cristina Ghinga , MO