Recovery after Vasectomy Reversal
January 16, 2018
|
Dr. David Wilson
Often times, folks looking forward to vasectomy reversal are wondering about recovery, return of activity, and return to employment.   I'll be giving the well proven protocol for The Reversal Clinic and also describing an outcome found in the most recent survey in the US for practice patterns after vasectomy reversal.  I will also briefly describe a small U.S. study looking at return to activity. 
The Reversal Clinic, over the past 12 years, has done over 6,800 reversals for patients from all 50 states and Canada.  So our postoperative management is a well proven protocol and we have seen good, smooth recoveries following this regimen. 
A common question about the initial day or two after procedure is, "When can I travel?" Over 90 percent of our patients are out of state, and we say the ideal time to travel is two days after the procedure, or after two nights' stay.  Air travel the same day after surgery is out of the question. Most people spend one night after surgery and get home the next day. Also, two hour drives after surgery are fine to get home, but you should stay in town if your drive is longer.
One of the immediate concerns after surgery is the scrotal support. In the immediate post-op period, we recommend that good support from athletic support briefs or a jock strap be worn 24 hours a day for the first couple days. Then the scrotal support should be worn just during the day for a total of three weeks after the procedure.
The main factor in return to work and full activity is pain after the procedure.  Some patients have no pain after the procedure, but the pain after reversal is usually the same as after vasectomy in about half the patients.  Pain is more than after vasectomy in about a quarter of patients and the post reversal pain is less than after vasectomy in about a fourth of the patients.
So it is a spectrum, but most people can get back to work to a desk job in just three days. For more active employment you should wait one to two weeks. Anything beyond a desk job, for example, a professional who is on his feet during the day or a truck driver who has no lifting - folks with some light activity during the day - one to two weeks works very nicely to get to more active employment. For the return to other activities, we recommend two weeks to resume sexual relations. We also recommend three weeks before lifting over 30 pounds or any exertional, heavy exercise, for example, running, or sports. 
The survey in the U.S. that was last done for vasectomy reversal patients had a question on post-op recovery that had to do with the scrotal support.  The survey respondents recommended, on average, two weeks of  support after the reversal. This study was done by Dr. Crane and others in San Diego that was published in the Journal of Urology in 2004*.  So this is in line with our scrotal support recommendations. 
Also there was a small study by Dr. Grober and others published in the Urology journal in 2011** looking at return to normal activities. There were 46 patients in the study who had a small midline incision similar to what we do here at The Reversal Clinic, and in those 46 patients the average time for return of complete normal activities was 11 days. This finding is very similar to our recommendation of one to two weeks to active employment for most patients. 
This information should help you in your planning as you or your loved one move toward vasectomy reversal.  The procedure is very well tolerated and you can expect an uneventful recovery to activity in a few days.  Feel free to use our website contact form to request a referral list of scores of patients you can call and speak with.

*Practice Patterns in Vasectomy Reversal Surgery.  DS Crain, et al.  The Journal of Urology, 2004.
**Mini-incision vasectomy reversal using no-scalpel vasectomy principles.  ED Grober, et al. Urology, 2011.

Back
Request Your Free Guide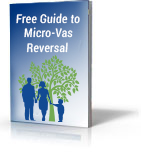 How to get a truly affordable Vasectomy Reversal and be at least 90% sure that it will work !
---
Testimonials
My wife and i started about two years ago wanting to have a child before she hit the thirties. I had been \"snipped\" a few years prior to us meeting. I knew it was risky to have a reversal done but knew they did exist. We searched around where we live and all we received was 50/50 results and very high cost associated with the surgery. We looked everywhere and was losing hope until one day it was like God put us on Dr. Wilson\'s site. We read his reviews and looked at his success stories one night and decided that we wanted to give it a try. I must admit the cost had me a little worried because it was so low. We made many phone calls asking if there was any extra cost involved and the answer was always no. Needless to say with a cost like that and such HIGH demand his profession is he was booked for a few months. We waited until it was our turn. We rented a car and i drove myself nine hours to have surgery the next morning. Surgery went well the next morning and recovery that day (rest) was well needed. Dr. Wilson described the surgery very well. He was very descriptive and the best part of pre-surgery was the prayer he said. I believe Dr. Wilson is doing great work for God in the lives of many families and our family would like to personally thank him for all he has done for us.
Michael Norris, Kentucky