Are Birth Defects More Common after Vasectomy Reversal?
December 29, 2017
|
Dr. David Wilson
This question of birth defects after reversal comes up every now and then. Couples or patients occasionally ask whether there is increased risk to the baby because it would be born after reversal. You may have heard some general statements regarding this or read a bit on websites or forums, but what is the scientific evidence? What are the statistics? Well, in this blog I'll be giving you the scientific evidence describing the rate of birth defects after vasectomy reversal.
This evidence is found in the landmark study, the Vasovasostomy Study Group (VVSG) trial*. This monumental work was once again described as the landmark study in the field in a worldwide review of the surgical literature, Meta-analysis of the Microsurgical Vasovasostomy literature** by Herrel and others in 2015.
The VVSG was published in 1991 by Dr. Arnold Belker.  He and four other expert micro surgeons from across the country conducted the trial. There were five different centers involved in the study published in The Journal of Urology. This excellent study looked at all different facets of vasectomy reversal. It looked at many issues surrounding microsurgical vasectomy reversal including the question of birth defects. This is the known science regarding the question of birth defects. 
It's a very reliable study, but just one study. How much weight should be put on just one study?  Well, you can see how huge this trial is yourself. You can do a quick search on Google Scholar. Enter the IP address, scholar.google.com on your device.  This will bring up the Google Scholar home page.  Put in 'vasectomy reversals' in the search bar and this will bring up the world literature regarding vasectomy reversals. The Vasovasostomy Study Group Trial will be at the top of this Google Scholar page. The total title is written as "The Results of 1469 Microsurgical Vasectomy Reversals reported by the Vasovasostomy Study Group." 
It is a wonderful trial. It is described there in a paragraph on the top of the Google Scholar search page. If you look on the left lower portion of that paragraph, you'll find some blue or purple letters stating, 'Cited by 532'.  This article has been mentioned, described or cited by other scientific journals and articles over 500 times. This is a huge, huge study, a very respected study, a very well-done study done by expert microsurgeons in a multi-center trial in the United States.
I don't believe there is another study with over 200 citations in the vasectomy reversal literature. There are a handful, I believe, with over 120 citations, but this is a very reliable study. So, we can put a lot of weight in the findings. 
What did they find regarding birth defects in children after a reversal? Well, they were able to follow 291 children born after reversal in this landmark study. These 291 children were available for follow-up, and of these 291, three had birth defects. So, the birth defect rate was 1% (3 of 291). 
Now, how does that 1% compare to the known birth defect rate in the U.S. population at large? Well, if you searched for the rate, you'd find anywhere from a three to five percent birth defect rate reported in the United States.  I cite one very reliable source, Annual Summary of Vital Statistics, published in Pediatrics, 2006 by Hoyert and others. They reported three percent of births have genetic defects in the population. So, this compares very favorably with the one percent found by the Vasovasostomy Study Group. 
In our own experience with thousands of children born after reversals at The Reversal Clinic over the past 12 years, I remember hearing of one child with Down syndrome, the second most common birth defect in the US.
So, our own experience (largest in U.S.) and the published scientific evidence is that this should not be a concern as you or your loved one make plans for vasectomy reversal.

*Results of 1,469 Microsurgical Vasectomy Reversals, Belker et al, J Urol 145(3);505-11, 1991.
**Meta-analysis of the Microsurgical Vasovasostomy literature, Herrel et al, Urology 85:319-325, 2015.
Back
Request Your Free Guide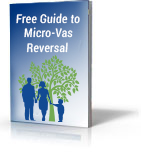 How to get a truly affordable Vasectomy Reversal and be at least 90% sure that it will work !
---
Testimonials
My husband got a vasectomy after we had two kids by the time we were 19. Years later, we started to feel our family wasn't complete. After months of discussion and research, we decided on The Reversal Clinic and I am so glad we did. We traveled 17 hours and my husband had his reversal on July 26, 2018, 5 years post vasectomy. We got our positive pregnancy test on September 1, 2018! Our Kodiak was born May 2019 and is such a light in our lives. We can't imagine life without him. God is so good and we are blessed. We are so very grateful to Dr Wilson.
RaeAnne Whiting, Utah