What is the Best Anesthesia For Vasectomy Reversal?
September 15, 2017
|
Dr. David Wilson
What is the best anesthesia for vasectomy reversal? You may have wondered, given what you've heard on internet websites, chat groups, or forums, about what is the best anesthesia for your or your loved one's reversal. You may have heard some conflicting reports. Some say, "This anesthesia is best." Others say, "This type of anesthesia will actually decrease results." And so, you may be in a quandary to know what, in fact, is the best for your reversal. On the other hand, you may not have thought of this at all, but now that it's been raised, you're wanting to see the evidence.

Well, the reason there's so many conflicting reports and statements on the internet is because very little of it is based upon science or actual experience. You may read some things in this blog that you won't see anywhere else. I will give you the results science has shown of the effect anesthesia has on results of reversal. I'll also discuss side effects and other criteria that should weigh in your decision regarding the anesthesia for your reversal.

The best study done in this area is the Vasovasostomy Study Group Trial* (VVSG), published in the 1991 Journal of Urology and written by Dr. Arnold Belker and four other expert microsurgeons. This study is the most comprehensive and the largest multicenter trial that has ever been done. And after all these years, it is still considered the best. The authors did a far-flung study of many different factors regarding and surrounding vasectomy reversal.

So, the VVSG an excellent source of science or truth in this area. It was described as the most comprehensive trial in the Cornell group's recent 2015 survey of the world's vasectomy reversal literature. It is still considered the landmark or benchmark for the field.

There were over 1,100 first time reversal patients in this wonderful trial that give us this good information, and there were two main types of anesthesia. The first type is general anesthesia and the second type was local anesthesia.

Now as you probably know, general anesthesia involves putting the patient to sleep using an IV and mask inhalation, controlling the patient's airway and actually breathing for the patient by putting a breathing tube in. The patient is completely still and completely unaware of the surgery.
In this study, 473 patients that had that type of care subsequently had semen tests performed. There were 402 of general anesthesia patients these actually had positive test results following their reversal procedure. So, there were 85% of the general anesthesia patients in this study that actually had positive test results. The average time from vasectomy was about 7 or 8 years so you could imagine the patients who were just a year or two from vasectomy had much higher rates than the patients who were 15-20 years out. But, overall with general anesthesia, 85% had return of sperm.

In the same study, there were 515 patients who had local anesthesia. Local anesthesia is just placed with a small needle into the region in the surgical area in order to do the procedure without pain. Of these patients, 441 or 86%, had positive test results. In fact, the results were somewhat better with local anesthesia than with general anesthesia. However, the differences were not statistically significant, so the conclusion was that there is no difference in results for first time reversal patients with different types of anesthesia.

The truth is anesthesia does not directly affect the results of the procedure.

Now, there are other things to consider besides simply the results or the success of the surgery. These would include the side effects of the different anesthetics. General anesthesia has known post anesthesia nausea and vomiting in some patients. There is also about an hour-long recovery to wake up and to come out of a drowsy or somnolent state. With local anesthesia, there is no drowsiness per se, and there's no nausea or vomiting. Patients before general anesthesia are kept NPO, or unable to eat before surgery. Patients with local anesthesia are able to eat. They can eat breakfast, lunch, or anything they like before the procedure time.

There is a third type of anesthesia that was not performed routinely in the trial. This third type is called IV sedation, and IV sedation again involves an intravenous cannula, usually in the arm. Normally there isn't much pain before or after with the IV, but there is some discomfort compared to local anesthesia where there is no IV needed.

With local anesthesia there's typically a few seconds of pain or discomfort at the very beginning of the procedure to get the vas numb but then there's no other sites of pain or discomfort after the procedure. In larger doses, there's been reported some tingling or other effects of the local anesthetic, but we've seen no harmful side effects of local anesthetics over the past 12 years. So a very safe procedure with very low side effects comes with a local anesthetic.

Of course, the cost for the patients are much higher with the general anesthesia or IV sedation. It takes specialized personnel, specialized equipment and monitoring and a specialized facility to have those types of anesthetic. The local anesthesia can be done safely and well in a simple clinic setting. So, The Reversal Clinic is convinced that local anesthetic is in fact the best choice.

Your own decision is going to be based upon your take on these different parameters, but I feel that local anesthesia is the standard of care for first time vasectomy reversal patients. There is nothing sacrificed in terms of success for the procedure and it doesn't carry the down sides of systemic anesthesia.

You may have heard the phrase "less is more". That is certainly the case here – the less invasive, less costly anesthesia is "more" (better) for our patients.
*Belker AM, Thomas AJ, Fuchs EF, Konnak JW, Sharlip ID.  Results of 1,469 microsurgical vasectomy reversals by the Vasovasostomy Study Group.  J Urol.  1991 Mar, 145(3):505-11
Back
Request Your Free Guide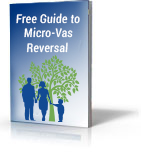 How to get a truly affordable Vasectomy Reversal and be at least 90% sure that it will work !
---
Testimonials
My husband had his reversal in September of 2017. In January of 2018 we did an analysis as directed and we were told that while they could see live sperm many were deformed and that his count was not high enough. My husband had religiously taken mobility boost, count boost, and fertility boost suppliments. We were told that our only option would be IVF. At that time IVF was not financially an option, but with some research we were hopeful that in time his count would improve. In June of 2018 we found that we were expecting! On February 4, 2019 we welcomed to the world a healthy little (4lb 13oz) baby boy! I can not tell you how amazing it is to know that the Rhode Island reversal clinic and Dr. Baldwin are the reason we have been so very blessed. Thank you is just not enough! I should note that my husbands vasectomy was at 9 years. We would be happy to share a photo with you if you'd like!
Christina, Michigan