Diaper Changing 101
February 21, 2017
|
Dr. David Wilson
This week I held the little guy on my lap.  He was propped up on a pillow on my knees, wrapped in cute, light weight blankies.  I was rocking in my favorite big rocker next to the wood stove and he was snoozing intermittently and looking up at grandpa.
He is three weeks old, our first grandson, and named after my father.  He is a quiet, contented baby who occasionally gives out a velvet smooth 'coo'.  Then from nowhere there was a fairly loud and deep sound emanating from his diaper accompanied by a bit of vibration on my legs.  The folks sitting on the other side of the room heard it plainly and everyone giggled a little.  He was wide awake at this point.
At that moment I had a decision to make.  Should I take the high road and change the diaper myself or take the low road and hand him to the closest taker?  I didn't think long, but put him down to change the diaper.  I suppose I should have had more hesitation because it had been 24 years since my last diaper change.
We were using cloth and pins back then, so after I had taken his soiled onsie off and had a handle on the mess with a liberal use of wipes, and had his little bottom powdered (my darling wife shook the powder because my hands were full) -  I fumbled with the paper diaper.  I tried for about a minute and a half to peel the tape off of the diaper, but his dad finally said that there was nothing to peel.  It would stick to the diaper.  At this point his beautiful mom came over.
The mild newborn was hollering for help in a full-bore bawl with wide open mouth and red face. (A perfectly appropriate response to his situation, as his mother pointed out.) She kindly instructed me on the nuances of correct paper placement around the legs and the right tension on the front of the diaper.  I meekly asked if she wanted to redress him while I took a trip to the trash can and washed my hands.
The room felt the relief as I was dismissed from my task and the little guy quieted down very quickly, content in his mother's arms.  And though I needed lots of help, when the two roads diverged, I am glad I had taken the high road, the road less traveled, and am very much looking forward to my journey with the little guy.

Back
Request Your Free Guide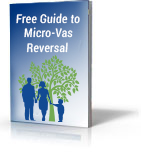 How to get a truly affordable Vasectomy Reversal and be at least 90% sure that it will work !
---
Testimonials
My husband had his reversal done in August 2015 after 4 years of having a vasectomy. I got pregnant with our third child 2 months later!! We didn't even have to wait to have the sperm tested!! We are so grateful! Lucy joined us in June 2016 and we are now pregnant with number 4! Thank you so much Dr. Wilson!
Ellie Domes, Oklahoma