How Much Does Vasectomy Reversal Cost?
March 22, 2010
|
Dr. David Wilson
Unlike vasectomies, the vasectomy reversal surgery is usually not covered by insurance, and several factors can drive up the cost for the procedure. The investment required can vary among doctors, regions and states, as well as the type and complexity of procedure involved. The vasectomy reversal surgery generally is performed on an outpatient basis and does not require a costly hospital stay. Many professionals charge $6,000 to $15,000 for vasectomy reversal surgeries, though the simpler methods can carry a much lower cost.

There are two types of reversal surgeries: The less common and more complex procedure is known as "vasoepididymostomy" and typically carries a much higher cost. It is rarely needed for a first time reversal. The most common -- and more affordable – method is known as "vasovasostomy." I only perform vasovasostomy. I don't incur the costs that go along with performing the more complex procedure, so if you are a first time reversal patient, you pay only for what you need. Patients should ask their physicians for their success rates in performing either or both methods. Some surgeons, including myself, offer guarantees, so it is important to ask about these policies before the vasectomy reversal surgery.

The cost of vasovasostomies, the simpler method, can vary wildly as well. Whether a physician uses general or local anesthetic can affect the total investment, as well as the question of where the procedure is performed. Some physicians perform the vasectomy reversal procedure in their offices under local anesthesia as I do, which often helps control the overall cost.
Back
Request Your Free Guide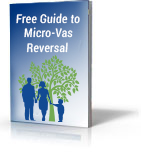 How to get a truly affordable Vasectomy Reversal and be at least 90% sure that it will work !
---
Testimonials
Happy to announce our little girl is 2 months old after having reversal in april 2017 and loosing our first pregnancy in march 2018
jose manso, Florida