Jubilee
June 24, 2016
|
Dr. David Wilson
A few weeks ago, I had just sat down at a friend's dinner table.  His eleven year old son includes in his prayer of thanks, "Thank you for the pregnancy and for giving us our baby sister." The family says, "Amen!" as if it was a frequent cause for thanksgiving.

Her name is Jubilee.  She is a quiet, happy baby who smiles when she eats and is just starting to say, "Dada!" Later, I very much enjoy holding her and seeing up close her large blue eyes and strawberry blonde hair.  She keeps turning and looking up to study me with long, unblinking stares,  and she is very content as long as the friendly stranger keeps swaying back and forth with little jiggles and pats on her feet.

She is ten months now.  Mom, who is with her around the clock, reports that she has a few favorite books that she likes to read out loud. And she really enjoys pushing around the floor in her stand up baby walker.  One of her latest triumphs is to wave "bye-bye".  She is a daddy's girl and bubbles with excitement when he comes home after a long day.

Her sister, age twelve, and two brothers (the oldest is fifteen) love to dote on her and take turns playing during the day. The whole family fervently prayed for her to be born, and Jubilee is the answer God gave. She has given what her name defines – joy and celebration.

Now we pray that, early in life, she would be born a second time, born again, as a spiritual child of God. 


Back
Request Your Free Guide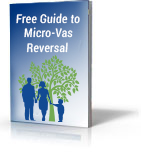 How to get a truly affordable Vasectomy Reversal and be at least 90% sure that it will work !
---
Testimonials
I had a vasectomy in 2006 after being blessed with 2 amazing kids with my first marriage. After a divorce and being married again in 2013 my wife desperately wanted another child. We went back and forth whether or not we wanted to go through with a vasectomy reversal and after years of thought we decided we would like to give it a try. We found Dr. Wilson through a friend who heard of him from a friend of a friend. After deciding this was what we wanted we flew from Utah to Oklahoma in February 2015. My wife got her positive pregnancy test in September 2015. Our baby girl was born May 2016 and we couldn't be anymore grateful for Dr. Wilson and making this possible for us after 8 years post vasectomy. We always felt that after that many years the odds were against us and it was not in our cards but Dr. Wilson made this possible for us. Thank you Dr. Wilson from the bottom of our hearts for making this possible.
Eric Kelleher, UT