A Cry For Help
October 05, 2015
|
Dr. David Wilson
You likely heard of the recent flash flood in a canyon in southern Utah that swept away passengers in a van and SUV.  The vehicles were thrown into a 30 foot ravine as they were carried hundreds of yards downstream. Several perished and a witness described a little boy standing next to the destroyed vehicles saying, "Are you guys going to help me?" He had somehow survived from being trapped inside.

The little boy's cry for help reminded me of the thousands of helpless unborn children who die daily in our country.  They are swept away by abortion.  If they had voices we could hear from the womb, what would they cry? I also hear the cry of another group of children.  This second group is different from those already conceived and in the womb.  These children are not yet conceived.

How can we think of an unconceived child having a voice to cry out for help?  I have heard many parents telling me of how they were seeking help to conceive after vasectomy.  Some of them tell of asking help from their spouses, family members, or others. And some of them cry out to God. And I hear in the pleadings of the parents, the cry of the unconceived. 

There is precedent for this concept in the book of Hebrews, found in the Bible. There we read, "Even Levi, who receives tithes, paid tithes through Abraham, so to speak, for he was still in the loins of his father when Melchizedek met him." The writer is explaining that the earthly priesthood of Levi was being replaced by the heavenly priesthood of Melchizedek with the Lord Jesus as the great High Priest in heaven. In so doing, he describes that the unconceived Levi paid tithes to Melchizedek through Levi's father, Abraham.

So I hear the cry of the unconceived when I hear the parents' calls, cries, and pleas.  And our life giving God hears them too.
Back
Request Your Free Guide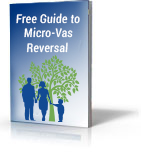 How to get a truly affordable Vasectomy Reversal and be at least 90% sure that it will work !
---
Testimonials
We had reversal done in Jan 2017 after a 9 year vasectomy. We got pregnant in November 2019 and our little boy is now due July 2020. We just had our 20 week anatomy scan and all is perfect with baby! We are so great full for Dr Wilson and definitely recommend him to anyone!!!
Justin Cherry, Nebraska