Matthew's Request
September 11, 2015
|
Dr. David Wilson
I was running late for the appointment.  I opened the front door and Matthew and his two parents came into the clinic.  They all had smiles on their faces. But Matthew, their only child, seemed especially cheerful with his large smile pushing his freckles apart.   I apologized and thanked them for their patience. Later during the appointment, his folks told me the story of how they came to the clinic.   They noticed several months ago their 11 year old son, Matthew, placing money in the giving envelopes at church.  He wrote on the front, "Tithe for a new baby".  He was regular and persistent in the giving.   Others also took note of his activity and asked the parents if they were considering another child. His mother asked Matthew about it, and he said he wanted a little brother or sister.   She suggested that he change the writing on the envelope to, "Thank you for the new baby".  And so, he did. Mom and Dad began discussing adoption in order to add to the family.  Matthew over heard this and told his Mom, "No, I want a new baby from your tummy."  (Mom says Matthew doesn't know about the vasectomy.)  So their search for vasectomy reversal began then and ended here. On their way out of the clinic they were still quite cheerful, especially Matthew.  I thanked him again for his patient waiting.  Now we all are waiting to see how the Lord answers Matthew.
Back
Request Your Free Guide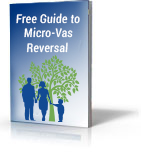 How to get a truly affordable Vasectomy Reversal and be at least 90% sure that it will work !
---
Testimonials
We had four beautiful and healthy children when we decided to have a vasectomy. It didn\'t take much time for us to realize that we had made a mistake. I prayed a long time for either God to take the longing for more children away or for Him to open the door for us to have it reversed. After 5 years, I had lost hope. It seemed there was no way we could afford it and there was no guarantee it would work. My husband came to me and said he had found a doctor in Oklahoma who did the surgery for a very small price. Coming from him, that was a big deal. He is always skeptical of \"too good to be true\" offers. We had our procedure in May 2014. Three days shy of one year later and we had a new precious baby boy. We truly believe that God led us to Dr. Wilson and is blessing his ministry!
Heath and Kristi, Florida