My Day, Your Day
November 20, 2014
|
Dr. David Wilson
I remember well the day of my surgery several years ago. It was early morning on a clear, cool fall day when my wife and I drove the white Pontiac across the state line to the surgeon's clinic. He was very calming and professional and the clinic was immaculate. He did the reversal under local anesthetic. It was painless after the needles to get things numb. While he worked, he told me, "You ought to do this surgery." His words were prophetic because a few years later I did open my practice exclusively for performing microsurgical vasovasostomy (vasectomy reversal).

What will your day of surgery be like? Well, first of all, you don't need to be early for your appointment. Just come on time. Be sure to eat normally before surgery. Go ahead and eat breakfast if it is a morning appointment, and have lunch if your time is in the afternoon. This is the opposite of general anesthesia, where you must stop eating. With local anesthesia, it is better for you to eat before the procedure. When you come in, you can have a seat in the comfortable main waiting lobby and you will be called into the consultation room at your appointment time. There is a little paperwork. Your web registration info is already in the chart, so you only need to finish some simple medical history questions. The paper work easily takes less than five minutes.

I will sit down and go over the procedure details with you and answer questions you may have. If you have family with you, they can all stay in your private, comfortable family waiting room during the procedure.  You will have the option of preoperative meds by mouth.

You normally will be in the procedure room within 20-30 minutes of your appointment start time. Your wife can come back with you after the start of the procedure. There is typically no pain after the local anesthetic is placed. The surgery usually lasts an hour and thirty minutes. Many men snooze some during the procedure. I have often talked about putting up a sign in the room: "We prefer snoring". Of course, since it is done under local anesthetic, we don't need to "knock out" anyone. So you have none of the risks (or costs) of general anesthesia or IV sedation.

After the procedure, I will go over post operative details carefully with you and answer all your questions before you leave. Most men leave the clinic within five to ten minutes after the surgery is completed.

Well, about five years after the day of my own reversal surgery, I was driving that same white Pontiac on a road trip towards home. Suddenly, I remembered the conversation with my surgeon years before and thoughts of starting a vasectomy reversal practice began racing through my mind. I missed my I-40 turnoff and added forty five minutes to my trip. It has been quite a journey since, over 4,000 microsurgical reversals and counting. And much more importantly, many precious babies have come along the way, born into families like yours. Today is another new bend in the road for the practice, a new day - a new website and practice name, The Reversal Clinic. Trust we can help you on your family's journey.
Back
Request Your Free Guide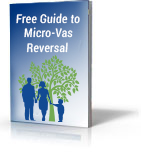 How to get a truly affordable Vasectomy Reversal and be at least 90% sure that it will work !
---
Testimonials
My husband and I both had kids from previous relationships and decided we wanted one more but unfortunately he had had a vasectomy several years back (approximately 4 years). We scheduled our appointment with Dr. Wilson for September 8th, 2014. I ended up getting off of the pill the second week in December of 2014 and I had a positive pregnancy test on January 9th, 2015!! I am now 33 weeks pregnant with our baby girl and due September 20th, 2015! This procedure works! My husband and I cannot thank Dr. Wilson enough for this miracle and blessing he has given us.
Michelle White, MO