Our New Offices
July 21, 2012
|
Dr. David Wilson
Well, I see the last blog post was several months ago, but we have been busy planning and building our new office solely dedicated to the practice of microsurgical vasectomy reversal using local anesthesia. It is located nine miles from the location we were at since the beginning of the practice in 2005. The new office has been built at 115 Lone Oak Circle, Fort Gibson, Oklahoma. It is in a new medical development. An occasional GPS system has problems because the streets are new. But, you can follow the directions on the Schedule page or simply ask anyone in Fort Gibson where the Subway Sandwich Shop is located. (We are behind the Subway.) Features include a central lobby waiting area, consultation/family waiting rooms and procedure operation rooms with ceiling mounted Zeiss operating microscopes. We hope to see you soon!
Back
Request Your Free Guide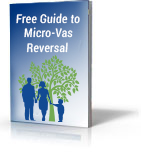 How to get a truly affordable Vasectomy Reversal and be at least 90% sure that it will work !
---
Testimonials
My wife is currently 4 months now. We drove to Rhode Island for the procedure. The doctor was very comforting and he even prayed with me beforehand. I can't thank Dr. Wilson enough and we'll see what we have in December.
DJ, ON