Vasectomy Reversal Antibodies
September 22, 2010
|
Dr. David Wilson
I am occasionally asked about anti-sperm antibodies and the impact it may have on a couple's fertility after vasectomy reversal. My answer is fairly straight forward every time: It is highly unlikely that anti-sperm antibodies would cause infertility after vasectomy reversal. Before I get into why there is very minimal impact, let me first explain more about anti-sperm antibodies. The immune system forms antibodies (proteins) to protect the body from something harmful. In the case of sperm, the body may produce antibodies because of an allergy or because the body is recovering from an illness or injury. For example, some think that a man's body would have an allergic reaction to sperm if it were not for the testes and blood barrier between the scrotum and the rest of the body. In situations of vasectomy, vasectomy reversal, and other testicular trauma, some argue the body forms anti-sperm antibodies to kill the sperm that makes its way to other areas of the body as a consequence of the trauma.

On first glance, it might seem that anti-sperm antibodies are a logical reason for infertility. But the truth is that anti-sperm antibodies are a highly unlikely cause of fertility issues. In 2003, the Department of Obstetrics and Gynecology at Yale University School of Medicine released a study that found: "Despite the increased prevalence of abnormal immune testing associated with early reproductive failure, the most rigorous studies have not proven a cause and effect between these phenomena."* The researchers looked closely at all the available immune tests and concluded that the results to these tests varied greatly and that the use of such testing couldn't be supported. Additionally, the treatments for immunogenic infertility are not conclusive. Anti-sperm antibodies and their role in infertility is a highly-debated topic. Anti-sperm antibody testing preoperatively has no role and should not be done. Approximately 60% of men who undergo bilateral vasectomy develop circulating anti-sperm antibodies afterward, and the effect of these on conception and pregnancy is controversial. While preoperative anti-sperm antibody testing is available, its effects on postoperative fertility is of unproven benefit and should not be done.

Antisperm antibodies form in the great majority of patients after vasectomy. The fact that the majority of these men will conceive after a successful vasectomy reversal indicates that antibody testing before reversal cannot predict successful vasectomy reversal. Antibody testing after reversal should only be considered if nothing else reversible is found for unexplained infertility after a successful vasectomy reversal.

*Kallen CB, Arici A, Immune testing in fertility practice:truth or deception? Curr Opin Obstet Gynecol 2003 Jun;15(3):225-31.
Back
Request Your Free Guide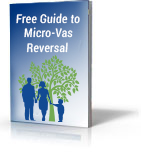 How to get a truly affordable Vasectomy Reversal and be at least 90% sure that it will work !
---
Testimonials
I had my vasectomy in 2012. Then in 2016, my wife and I decided we wanted a reversal, so we did lots of research before finding Dr. Wilson. We made an appointment with him and drove 9 hours from Tennessee to see him. I had my reversal done in August of 2016, then found out my wife was pregnant in February of 2017! We just had our baby boy, Huxton, on October 1st, 2017! We had a great experience with Dr. Wilson and are so thankful for his service and giving us the chance to have our sweet baby boy. We would recommend him to anyone!
Jeremy Morris, Tennessee