What Is The Success Rate For A Vasectomy Reversal?
August 30, 2010
|
Dr. David Wilson
Several factors can influence the success rate of a vasectomy reversal surgery. Among those factors in play are: • The technique chosen by the doctor; • The length of time between the vasectomy and the reversal attempt; and • The experience and skill level of the surgeon. In all vasectomy reversal attempts, the surgeon is attempting to restore the flow of sperm in the two vas tubes, which are attached to each testicle and carry sperm to a man's semen. Though no surgeon can claim a 100 percent success rate, there are several other factors that influence a couple's pregnancy rate. There are two types of surgery: The simple method that I perform is vasovasotomy (VV), and the more complex is vasoepididymostomy (VE) that is done well by surgeons who do many repeat reversals. Sperm counts are often adequate after three months with the simpler methods compared to four to six months after the more complex procedure. Conceptions have occurred as early as 2 weeks post-procedure in my practice. In both cases, sperm counts tend to improve after six months and beyond. The success rates and pregnancy rates are lower after vasoepididymostomy. The length of time between the vasectomy and the reversal attempt, statistically, can impact success rates. Typically, in reversals attempted less than three years after the vasectomy, the success rate of sperm returning to the vas are in the 97 percent range. Live sperm return after 3-8 years is 90-95% for expert surgeons. Though the surgery can be performed later than nine years after the vasectomy, success rates do drop off after this.
Back
Request Your Free Guide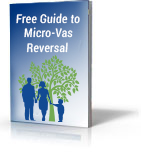 How to get a truly affordable Vasectomy Reversal and be at least 90% sure that it will work !
---
Testimonials
My fiancé had a vasectomy for 4/5 years when we saw dr.wilson. We got pregnant 4 months after the surgery! We are so thankful!
Traci, MI