Vasectomy Reversal Surgery 101
March 15, 2010
|
Dr. David Wilson
Vasectomy reversals, also known as vasovasostomies, provide millions of men with the opportunity to have children again. It is an outpatient procedure, usually performed at a doctor's office, clinic or hospital. Generally, it is performed by urologists, general surgeons, or other physicians trained in vasectomy reversal. An estimated 10% of men, after vasectomy, later decide to get the procedure following divorce, death of a child or spouse, or a change in convictions or circumstances. The procedure usually takes an hour and a half to complete. A local anesthesia and mild sedatives are used. Pain is mild.  Most patients can resume vigorous activities in less than one month after surgery. Most men can return to a desk job in three days.

The Vasectomy Reversal Procedure
Vasectomy reversal surgery most commonly reattaches the vas deferens – the two ducts that carry sperm from the testicles to the prostate. The surgeon cuts the scrotum skin and through the one inch surgery site, reconnects the vas deferens, allowing the release of sperm when a man ejaculates. There are two surgeries that may be used to perform a vasectomy reversal. The most common and successful method involves the surgeon suturing the cut ends of the vas tubes back together (vasovasostomy). This can be done equally successfully with either a formal two layer technique or with the modified technique equally successfully.

The far less common surgery reconnects the cut vas to the epididymis, the tube resting on the testicle itself. This procedure is called vasoepididymostomy or "bypass" for short. It is less successful in resuming sperm flow and is more commonly used in patients who are having repeat reversal. I do not perform this procedure in my practice because we feel simple reconnect is the standard of care for first time reversal patients.
How Effective Is Vasectomy Reversal Surgery?
Overall, a reverse vasectomy is more effective the quicker it follows the original procedure. Sperm returns in my practice for patients less than three years after a vasectomy in 97% of patients; 91% in three to eight years; and 72% more than 9 years after the vasectomy. In my practice, vasectomy reversals produce a pregnancy rate of 81% for patients less than 3 years from vasectomy, 74% in patients from 3-8 years out, and 46% greater than 9 years. These figures are for couples followed for 2 years who have no female fertility issues.
Back
Request Your Free Guide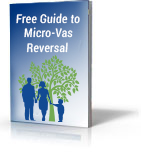 How to get a truly affordable Vasectomy Reversal and be at least 90% sure that it will work !
---
Testimonials
My husband had his vasectomy in 2010. We went to see Dr. Wilson in July 2016 but couldn't "officially" start trying until December 2016. It took us 4 months to get pregnant. We are expecting our precious bundle December 2017. Thank God for Dr. Wilson for helping our dream come true.
James and Eve Ray, TX