What Should I Consider Before Having This Type Of Surgery?
July 16, 2010
|
Dr. David Wilson
Vasectomy reversal surgery must be considered by any couple hoping to conceive a child following a man's vasectomy. Although there are other methods that can be considered, vasectomy reversal surgery provides a safe, predictable option. That said, it is important that couples consider other factors prior to committing to reversal surgery. Among the factors and questions to consider before committing to surgery:
The man's ability to produce sperm;
A female's ability to conceive a child; and
The choice of which doctor will perform the vasectomy reversal procedure.
Most doctors will want to make sure a man can produce healthy sperm before attempting to reverse a vasectomy and restore the flow of sperm to the semen. If a man has not impregnated a woman in the past he should consider having a FSH laboratory test done. Certainly if he has small or soft testicles, he should have the FSH performed. , he may need a testicular biopsy. That is a simple procedure in which a needle is used to remove fluid from the testicles to check for sperm. It is also important that a female partner see an OB physician to be tested if she has not borne children to ensure there are no fertility problems. If she is over 39, even if she has gotten pregnant in the past, see should consider seeing her doctor or getting ovulation testing. (There are reliable over the counter kits available.) her doctor will want to know if she has regular menstrual cycles and possibly conduct a pelvic exam. Her doctor may recommend other tests. These might include tests to make sure her fallopian tubes are not blocked and that she is ovulating. When choosing a doctor who will perform a
vasectomy reversal procedure
, ask about his personal experience with reversal surgeries and success rates – both his and overall success rates of restoring the flow of sperm, and of impregnation. Be sure to ask about the risks and for your doctor to explain all of your vasectomy reversal options.
Back
Request Your Free Guide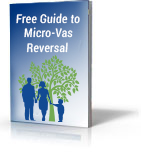 How to get a truly affordable Vasectomy Reversal and be at least 90% sure that it will work !
---
Testimonials
I do not do may reviews, but The Reversal Clinic made it possible for us to have our baby boy. I got my vasectomy back in 1996 after having two great daughters. I remarried and my wife did not have any children, so in 2016, she finally talked me into starting over. After researching, we decided on the Reversal Clinic. This is a little different than your traditional medical transaction. Dr Wilson is not your guy if you want multiple consultations and if you need a lot of hands on attention. We had made our decision. Make an appointment, show up, pray, procedure and go home. The communication is not great but you can trust that once you show up for your appointment, you are in great hands. With 20 + years post vasectomy, i was a little nervous about it, but the procedure went very smooth, Dr Wilson talks you through what is going on, at one point he took a sample and told us that everything looked positive and finished up. I was very comfortable throughout the process. 18 months post surgery, my wife got pregnant (we were not desperately trying) and now we have a beautiful, healthy baby boy.
Clint, OK