How To Choose Your Vasectomy Reversal Doctor
June 28, 2010
|
Dr. David Wilson
The choice to reverse a vasectomy is obviously a significant life decision and one that should be taken with great care, research and assurance. Choosing a vasectomy reversal doctor is central to this critical decision. When seeking a vasectomy reversal doctor, men will often turn to the doctor who initially performed the vasectomy. While this is a good first step, the initial vasectomy doctor may not have significant experience with vasectomy reversal surgeries or the vasectomy reversal surgery process. They can often, however, suggest a medical professional with significant experience in vasectomy reversals.

Several factors should be considered when choosing a vasectomy reversal doctor, including: Experience. Many surgeons offer vasectomy reversals, but usually conduct a fraction of the vasectomy reversal surgeries performed by specialists. In addition to greater experience, specialists are often more involved and familiar with emerging technologies involved in reversal surgeries. Ask each doctor about the number of procedures he performs in a week or month and, if possible, for referrals. Preferred methods.

The reversal procedure can be conducted more than one way. Talk to your vasectomy reversal surgeon about which methods he prefers and is most comfortable with. While cost should not be the sole factor in choosing a vasectomy reversal doctor, nobody can ignore the often high costs of specialized procedures. Because vasectomy reversals are rarely covered by insurance, cost is an increasingly important factor. Talk to potential surgeons about how they arrive at their costs for the vasectomy reversal surgery.
Back
Request Your Free Guide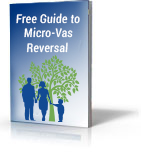 How to get a truly affordable Vasectomy Reversal and be at least 90% sure that it will work !
---
Testimonials
My husband had a vasectomy and the surgeon told us after the procedure that he wasn't sure he cut the correct tube on one side. So my husband underwent another vasectomy that same year, but the surgeon insisted on redoing both sides. We regretted it almost immediately but weren't sure, given the scar tissue and amount of vas removed since there had been two prior vasectomies, if a reversal was even possible. But after praying for direction for 5 years, we decided to try. Dr. Wilson said put our minds at ease and said he had encountered similar situations before. We got pregnant about a year and half later, but lost the baby to miscarriage. Given my age and health history (hypothyroidism and MTHFR), I am not too surprised. But I am eternally grateful to Dr. Wilson for helping us conceive our third child. Even though we won't meet that child in this lifetime, he or she is waiting for us in Heaven and a life exists and gets to enjoy Jesus for all of eternity that would not have otherwise.
Melissa Knight, Nebraska