How To Choose Your Vasectomy Reversal Doctor
June 28, 2010
|
Dr. David Wilson
The choice to reverse a vasectomy is obviously a significant life decision and one that should be taken with great care, research and assurance. Choosing a vasectomy reversal doctor is central to this critical decision. When seeking a vasectomy reversal doctor, men will often turn to the doctor who initially performed the vasectomy. While this is a good first step, the initial vasectomy doctor may not have significant experience with vasectomy reversal surgeries or the vasectomy reversal surgery process. They can often, however, suggest a medical professional with significant experience in vasectomy reversals.

Several factors should be considered when choosing a vasectomy reversal doctor, including: Experience. Many surgeons offer vasectomy reversals, but usually conduct a fraction of the vasectomy reversal surgeries performed by specialists. In addition to greater experience, specialists are often more involved and familiar with emerging technologies involved in reversal surgeries. Ask each doctor about the number of procedures he performs in a week or month and, if possible, for referrals. Preferred methods.

The reversal procedure can be conducted more than one way. Talk to your vasectomy reversal surgeon about which methods he prefers and is most comfortable with. While cost should not be the sole factor in choosing a vasectomy reversal doctor, nobody can ignore the often high costs of specialized procedures. Because vasectomy reversals are rarely covered by insurance, cost is an increasingly important factor. Talk to potential surgeons about how they arrive at their costs for the vasectomy reversal surgery.
Back
Request Your Free Guide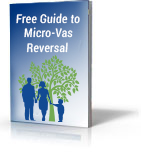 How to get a truly affordable Vasectomy Reversal and be at least 90% sure that it will work !
---
Testimonials
Six years after my husband's vasectomy there was still a longing in my heart for another child. His love for me lead us to Dr. Wilson's office, yet both of us have been blessed by our new son. He had his reversal in Sept of 2011 and our son arrived in Sept of 2012. You never regret the children you have, only the children you don't have. We have a large age gap with our children, but even that has been positive. Watching our older boys with their baby brother is so much fun. Their friend's are jealous they don't have a baby at their house and I have help at the grocery store or while I'm cooking dinner. We are blessed and thankful everyday for our family.
Valerie, Oklahoma