Why Does The Success Rate Of Vasectomy Reversal Decrease Over Time?
May 27, 2010
|
Dr. David Wilson
When considering a vasectomy reversal, the most important factor in determine the success of the procedure is the amount of time that has passed since the original vasectomy surgery. Since the chance for a successful vasectomy reversal decreases over time, this is the first question a doctor will ask a prospective patient. Let's take a look at how the success rate is determined and what affects this rate.   The Breakdown: Years Since Vasectomy And The Success Rate of Vasectomy Reversal Surgery The rate of success for vasectomy reversal surgery has been extensively studied and a correlation has been developed between that success rate and the amount of years since the original surgery. The best category of patient is those who have had a vasectomy within the previous three years. In this case, there is a 97% chance of return of live sperm, which translates into a pregnancy rate of over 80% in my practice. For patients with more than 3 years but less than 9 years from their vasectomy, the chance for a return of live sperm is still 91%. This rate correlates to a 74% chance of pregnancy. For those men who have gone more than 9 years before reversing their vasectomy, there is a 72% chance of return of live sperm and a 42% pregnancy rate in my experience.   Why Does The Success Rate for Vasectomy Reversal Surgery Drop Over Time? A vasectomy works by preventing sperm flow out of the testicles by creating an obstruction in the vas deferens. However, this does not stop sperm production. This results in an increase in pressure on the vas deferens which can cause a second obstruction in addition to the surgery site. This second obstruction occurs more commonly with increasing time because of the cumulative effects of high pressure in the system. This prolonged high pressure can result in breakdown of the thin walled tube in the epididymis, a  small sac resting on the testicle that contains the tubes where sperm mature and are stored. But more commonly, decomposing sperm products simply block the system given time. Another reason success rates drop over time is effects of prolonged increased pressure on the testicle itself. This is not nearly as important as the second blockage, but there are changes that occur. There is a myth that reversals do not work because of anti-sperm antibodies. These antibodies, like the ones produced to fight viruses, are produced by the body as a protective measure. After a reversal, antibody production ceases. While it is estimated that less than 5% of vasectomy reversals may suffer from anti-sperm antibodies, it is not a major factor.
Back
Request Your Free Guide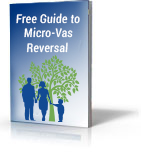 How to get a truly affordable Vasectomy Reversal and be at least 90% sure that it will work !
---
Testimonials
We got married at 20 and had 2 girls pretty quick. When they were grade school age. I went to school and started working. Then around 30 my hubby wanted a boy. So we got pregnant and had a boy. 2 yrs later we got pregnancy with a girl! Thought we were done. So at the end of pregnancy we got vasectomy. Well very end of pregnancy I lost her to placenta abruption full term. I learned that you are truly blessed if you can have kids and they are healthy. You don't have to have a plan in life bc it will not be in your control or your timing ever! After some time of healing I felt it to have another. Just to feel that joy again and some healing. So we saw this Dr. he had good reputation and stories. And was cheap! The office visit was very quiet and relaxing. He talks to you very calmly. It was pretty quick. So after 2 and half years after vasectomy in October, we got reversal done. By May I was pregnant with a boy! Healthy and wonderful! He is now 4 mths old. So very thankful we did this procedure!
Christina and Bryan, Texas