The Pain of Vasectomy vs. The Pain of Reversal
May 10, 2010
|
Dr. David Wilson
One of the questions I get about my procedure is, "Doctor, how much will it hurt?" . Well, actually, it won't hurt much at all. The physical pain is usually nothing more than a few pricks of the needle for the local anesthetic and some mild discomfort after the surgery. I do administer minimal oral sedation if requested, but that is really just to help you through the discomfort of holding still for an hour and a half while I do the procedure. In fact, there is some chance you'll actually fall asleep during the procedure!

Bottom line is that the physical pain is no where near as great as the emotional pain that most couples feel about not being able to conceive after a "pre-mature" vasectomy. I know. Because I experienced that emotional pain after I had my vasectomy. In contrast to my patients, who may doze during the procedure, many couples stay up nights worrying…wishing they had not gone through with the vasectomy. Wishing they had waited. Wishing for an affordable way to make that pain go away. Now that is real pain. But it's pain I can help alleviate. And there's nothing more satisfying as a doctor - not only to be able to heal someone physically, but to also help bring joy and emotional health.
Back
Request Your Free Guide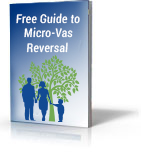 How to get a truly affordable Vasectomy Reversal and be at least 90% sure that it will work !
---
Testimonials
We had a beautiful baby girl named Shay in September of 2019 all thanks to Dr. David Wilson. He is an amazing man of God and has enriched our lives more than he could know. My husbands vasectomy was almost 15 years prior to reversal surgery. If you're looking for the best Dr. around with a relaxing surgical setting please go see Dr. Wilson!! Thank you Dr. Wilson and may God continue to work through you!
Jamie and Brandon, NM