Why Pay for a Stranger's Vasectomy Reversal?
May 03, 2010
|
Dr. David Wilson
Why are most vasectomy reversals so expensive? Well, I can give you a host of reasons why…most are performed in facilities or large hospitals with huge overhead costs, most are performed in major metropolitan areas with higher costs of living…but the main reason that most vasectomy reversals are so expensive is because doctors there perform "bypass" vasectomy reversals. This bypass procedure is much more complicated and expensive than the simple reconnection that first reversal patients require. And there are situations where it is required. This is the case about half the time on the rare occasion that a first reversal fails. Then a complicated bypass is often required. But this procedure is rarely required for a first vasectomy reversal. ARE YOU PAYING FOR SOMEONE ELSE'S VASECTOMY REVERSAL? But, in order to offer the complicated and expensive procedure to the patients who DO need it, the doctors who perform them charge more for the simpler reconnection procedure. This explains the much higher fee for the simple procedure in this setting. In essence, the patients who DO NOT need the expensive procedure, help pay for the ones who do. SO HOW CAN I CHARGE SO MUCH LESS FOR THE SIMPLE PROCEDURE THAN MOST SURGEONS? Because I NEVER perform the more complicated procedure. That way, you only pay for what you need.
Back
Request Your Free Guide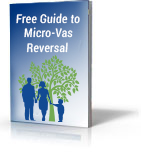 How to get a truly affordable Vasectomy Reversal and be at least 90% sure that it will work !
---
Testimonials
My husband had a reversal in June 2016 and I got pregnant 5 months later, even being over 40 years old! This ministry has been a true blessing to us and we would recommend that anyone in this situation prayerfully consider using The Reversal Clinic. Dr. Baldwin was amazing- very kind, going above and beyond to make it a positive experience for us. We are very grateful that we connected with Dr. Baldwin and pray that many others are able to have the same success that we have had!
Jeff and Cassie Fenoseff, Michigan