From Blood Money to Embracing Life through Vasectomy Reversal
April 21, 2010
|
Dr. David Wilson
Today's blog is a bit of a rant. There are just some things I like to get off my chest. Perhaps you'll relate to this. It has nothing to do with my skill or qualifications as a surgeon, but perhaps it will give you some insight into who I am as a person. I believe you should not only trust your surgeon, but also feel a connection with him or her. It is important to "be on the same page" with your doctor on more than just the "health care" level. So here goes... In 2004, I saw two reliable sources report that 4,000 abortions were being performed in the U.S. every day That's right, every day. It was the most common surgical procedure in the country.

Now, I know that many are convinced of the legitimacy of this procedure, but I confess I have not and will never see any sense in this. Now, my view stems largely from my biblical and spiritual views, but there are some blatant common-sense reasons as well. First, scores of medical workers will labor heroically hour upon hour, night and day for weeks at a time to save the life of a third trimester fetus born prematurely. But at the same medical center, a third trimester fetus is aborted.

Second, if you've ever seen an ultrasound, I defy you to say that the fetus is not a person. A fetus is a person too.

Third, a young mother can hand over the body of her unborn to the abortionist without any charges being filed. And yet, if a murderer takes the life of a fetus he or she is charged with a felony crime. Which is it? A life worthy of the charge of murder? Or a mass of tissue with no rights? It can't be both. It's enough to make me bang my head on the table (or simply cry) – that we can be so unthinking and so cruel to these helpless ones.

Well, when I heard, in 2004, about the 4,000 abortions a day in the country, the thought occurred to me, "I'm sure those young women are not paying for all those abortions. I'm sure that some of the people I am doing business with are paying for them". And sure enough, when I contacted the various insurance companies and government agencies that paid for my services, they said they did pay for elective abortions. These "partners" of mine (through the provider contracts) were funding abortions. There was blood on my money. I made the decision to stop the provider agreements. Four months later I had to close the doors of my practice because I was no longer a contracted provider for the patients' insurance companies.

But one door closing caused another to open. This closure opened the door of opportunity. A few months later I remember my colleague who had, years before, suggested I learn the vasectomy reversal procedure. I did. And now I embrace life. Not death.

You, too, have desires and convictions. And your decision to reverse your vasectomy is one that embraces life. You are choosing to be open to the possibility of children. Obviously, the birth of a child is not in my power to accomplish for you, but I do commit to doing all I can, the best I can, to see your reversal is a success.
Back
Request Your Free Guide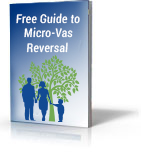 How to get a truly affordable Vasectomy Reversal and be at least 90% sure that it will work !
---
Testimonials
Vasectomy was done 8 years ago. Had reversal done December 4th, 2019. Found out we were pregnant February 2020. Due September 2020!
Carrie and Christopher Baker, Alabama