The Health Care Debate and Vasectomy Reversal
April 05, 2010
|
Dr. David Wilson
I don't care where you come down on the recent health care debate in Washington. There are certainly arguments for and against universal health care. But I think there is one thing we can all agree on: there is a lot of waste in the current system. And some of that waste occurs in the larger hospitals. Large facilities have high overhead. It's just a fact. There is greater cost associated with care in a large facility than with care you receive in a small clinic or private office.

Some procedures require the equipment and services that can only be found in large hospitals. But vasectomy reversal, for first time reversal patients is not one of those procedures. There is no advanced or unwieldy equipment that is needed for this procedure. In fact, general anesthesia is not required. So, part of the additional fee you end up paying for the more complicated and involved "bypass" reversals that some doctors perform, is directly due the facility in which they are performed. But my reversals are done in a small private office using only what is required to get the job done.

+ no general anesthesia
+ no facility charge
+ my office is comfortable but not large thus saving fixed costs
+ high powered scheduling and patient relation software also decreases labor costs

You can see that none of these efficiencies have any impact on surgical quality, so the costs are lower and the quality is still excellent. Also, it's all I do here. So, your fee does not have to help pay for a billion other services provided like at a major hospital. You pay for what you get. Your vasectomy reversal. Period.
Back
Request Your Free Guide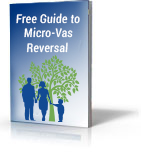 How to get a truly affordable Vasectomy Reversal and be at least 90% sure that it will work !
---
Testimonials
I had my reversal done in November 2011, 5 years after my vasectomy. I am now 52 and have only one working player on my man team but thanks to Dr. Wilson's skill and faith, we are now expecting! We just had our first ultrasound last week and are expecting in March 2014.
I felt that I was in good hands as soon as I met with Dr. Wilson and this was confirmed every step of the way. To any man considering this procedure, I would enthusiastically recommend Dr. Wilson, not just because his price was lower by far, but because he is good at what he does and cares deeply about helping his patients to father children again.
Henry and Monica, California