General Versus Local Anesthesia
March 29, 2010
|
Dr. David Wilson
Patients commonly inquire about pain during vasectomy reversal and the risks of general anesthesia as opposed to local anesthesia. Pain is not just a common concern; it's a legitimate concern. To put your mind at ease and to simplify the process, ask your physician about anesthesia during your initial consultation so that you can move forward with the right information from the very beginning. Well performed local anesthesia is plenty effective in keeping a patient comfortable during the vasectomy reversal procedure. I also know that anesthesia does not impact patency rates (rate at which sperm returns to semen). There are other benefits to local anesthesia: • Less expensive medical costs • Fewer side effects • Quicker recovery time When I started this practice nearly five years ago, my opinion about local anesthesia for vasectomy reversal was based on what I saw in the scientific studies in the field. Most importantly, research showed that the type of anesthesia used did not affect results of the vasectomy reversal. This was proven by the acclaimed Vasovasostomy Study Group*. In this study, most first time vasectomy reversals (515 patients) were done with local anesthesia. General anesthesia was used in 454 patients. Patients with sperm in their semen were 86% for local anesthesia and 85% for general anesthesia. The percentage of patients achieving pregnancy was also 1% higher for patients who had local rather than general anesthesia. This study should silence the worn-out argument about patients not being able to hold still enough for precision surgery unless they have general anesthesia. It should also mute concerns about pain during vasectomy reversal. It is likely you will feel the initial pinching that goes along with the numbing injection. However, after that point you should feel very little and be quite comfortable. The other thing I saw in the surgical studies was the safe, comfortable and effective use of local anesthesia in all types of scrotal surgery including vasectomy, vasovasostomy (vasectomy reversal), excision of epididymal cyst, orchidectomy (removal of testicles for prostate cancer), hydrocelectomy, and excision of spermatocele. My opinion of local anesthesia for vasectomy reversal is founded on these studies, and also my own experience of having over 1,200 satisfied patients. We have hundreds of patients who can attest to the effectiveness of local anesthesia. We can even connect new patients to those who have completed a vasectomy reversal with local anesthesia. Just contact us for the referral list. * Belker AM, Thomas AJ, Fuchs EF, Konnak JW, Sharlip ID. Results of 1,469 microsurgical vasectomy reversals by the Vasovasostomy Study Group. J Urol. 1991 Mar,145(3):505-11.
Back
Request Your Free Guide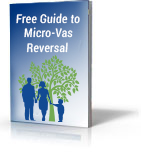 How to get a truly affordable Vasectomy Reversal and be at least 90% sure that it will work !
---
Testimonials
My husband had a vasectomy in December 2015, one month before our 4th child was born. We felt done! However, we didnt dicuss in length about the vasectomt but figured we would be fine with it. A couple of months later we began discussing a reversal & after much thought & prayer opened our family to God & His planning. Dr. Wilson helped make this happen for us. We got the reversal in April of 2016 & are happy to announce that 11 months later we are due with baby #5 in November 2017. Thank you for what you do & praying with us & being a man of God who does a wonderful job.
Christina Nevills, Oklahoma