Defining Vasectomy Reversal Terms
March 08, 2010
|
Dr. David Wilson
As you begin to prepare for a vasectomy reversal or while you are researching to understand your options in vasectomy reversal, you will undoubtedly come across medical terms that are new to you and a bit unclear. Below is a list of terms my patients ask about. If there is another word you would like to understand better that you don't see here, simply ask in the comments section of this post or contact me directly. Anti-sperm Antibodies – Proteins formed in response to sperm much like other proteins formed by the body's immune system to protect itself from something harmful (i.e., allergy, injury). ASA have possible significance in less than 5% of vasectomy reversal patients. No need for preoperative testing. Epididymis – A sac that lies on the testicle containing very thin walled tubes where sperm mature and are stored prior to ejaculation. Fertility Expert – Either an Ob/Gyn physician who specializes in female reproduction or an Andrologist who specializes in male reproduction. Local Anesthesia – Placement of numbing medication with tiny needles in the vas region to allow painless surgery on the vas deferens. Microsurgery – Surgery using optical magnification by use of a microscope. Microsuture – Tiny material (thread) used during vasectomy reversal microsurgery to reconnect the two ends of the vas deferens. Patency – Rate at which sperm returns to semen following a vasectomy reversal. Pregnancy Rate – Rate of pregnancy for couples following a vasectomy reversal. Usually defined as a two year rate (two years after reversal) for couples who have no female fertility issues. Prostate Gland – Gland, located below the bladder in which the ejaculatory ducts, the two vas deferens and the urethra join. Scrotum - The sac that contains the vas deferens, epididymis, and testicles Semen or Seminal Fluid - Fluid containing sperm and glandular fluid released by the urethra with ejaculation Sperm Count – Number of sperm per volume, also less commonly described as the number of sperm in a sampling of semen (better described as total sperm count). Testes or Testicles – Two male reproductive glands located in the scrotum which produce sperm Total Motile Count – Figured by multiplying the total sperm count by the percentage of sperm with motility (movement). Normal Total Motile Count is 20 million. Urethra – Tube that runs from the bladder to the penis that carries urine or semen Vas Deferens – The tube where sperm are transported between the epididymis and the prostate. There are two tubes, one on each side of the scrotum. Vasectomy – A surgery that causes infertility in men. Specifically, part of the vas deferens is removed or divided. Vasectomy Reversal – A surgery that aims to bring fertility back to a man. Specifically, the vas deferens are reconnected. Also loosely used to describe a more complicated surgery to connect the vas to the epididymis. Vasoepididymostomy – A complicated vasectomy reversal performed in about 5% of all reversal surgeries, but more commonly in patients over 9 years from vasectomy. It connects the vas deferens to the epididymis in order to bypass a blockage in the epididymis. See vasectomy reversal definition above. Vasovasostomy – Simple vasectomy reversal that reconnects vas deferens. It is by far the most common surgery for vasectomy reversal. See vasectomy reversal definition above.
Back
Request Your Free Guide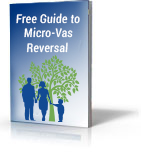 How to get a truly affordable Vasectomy Reversal and be at least 90% sure that it will work !
---
Testimonials
My husband had a vacetomy 4 years prior to us getting married. We wanted a child together badly but didn\'t think this was possible because our insurance didn\'t cover it. I came across Dr. Wilson\'s practice and we did some research and decided to book the appointment with him. Dr. Wilson is heaven sent from God. What he\'s doing in his practice to make the vacetomy reversal affordable is a blessing. He prayed with me and my husband before the surgery and this really put us at ease. Exactly one year after the surgery my husband and I got pregnant and on December 22, 2014 we gave birth to a beautiful baby boy. Dr. Wilson I thank God for you. Without you we wouldn\'t have our baby boy. Sometimes I look at my son and still can\'t believe it. To God be the glory. For any of you that are on this page trying to see if Dr. Wilson is the right doctor for you. Let me be the first to tell you he is the right person for the job. Dr. Wilson is very skilled at what he does. You won\'t be disappointed.
Shelton and Sharenda Robinson , Georgia